The Egadi Islands, Favignana, Levanzo and Marettimo, are a tiny archipelago located just off the western coast of Sicily. Their peaceful beaches and turquoise water in the cale, which are small bays, make these islands a perfect destination for everyone who wants to enjoy a relaxing holiday away from the crowd. From Trapani, there is the Egadi Islands ferry that in only 30-40 minutes will take you to any of the three Egadi Islands.
Egadi Tour 
The most popular tour to explore all three Egadi Islands is to hop on a boat and go from island to island.
Favignana
In Favignana, the largest island, the coastline is absolutely marvelous. Here, you can probably go for the best Egadi snorkeling and see the marine life through the crystal clear blue water. The most popular beaches are Cala Rossa and Cala Azzurra. After spending the day at the beach, you could walk up to the castle of Favignana and from its top see the whole island, which has the shape of a butterfly.
Levanzo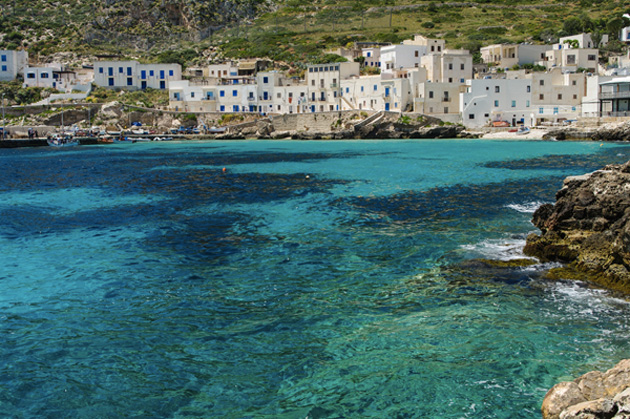 Even more peaceful and less crowded, Levanzo will make you feel like if you were at the edge of the world. With its few hotels and remote look, this island is a little corner of paradise. You can rent a bike and ride all around the tiny island and then swim in one of the many little coves around the rocky coastline.
Marettimo
If you are looking for an exciting diving or hiking adventure, Marettimo is your island. Its mountainous landscape offers many trails full of flora and stunning overlooks where the view of the coast is simply phenomenal. Divers and swimmers love this island because of its shallow blue water and the many spots from which you can safely dive. The style of this island will take you back to a charming Italy of the Fifties.