Go for up-to-the-minute modern style this summer and splash out on a week of designer living under the Sicilian sun. Fortunately, there's no need to spend crazy money to enjoy brilliant design features and impeccable taste. At Wish Sicily, we think it's the tiny details and the 'wow' factor that count. So, no two villas in our stylish and contemporary villa collection are the same: while one might have striking modern art, another may be included for its state-of-the-art kitchen.  Nevertheless, when it comes to flair and sophistication, these villas are in a class of their own.
Design extravaganza
The first sight of Villa Dionisio's extraordinary façade, with its vast picture windows, leaves you in no doubt that this is a classic designer villa. All around the infinity pool, smooth terraces provide spectacular views of the Sanctuary of Tindari and the ocean. Step into a magnificent galleried living room with dazzling white walls and sofas, and striking art works. A super-stylish kitchen, minimalist bedrooms and hotel-style bathrooms complete the scene.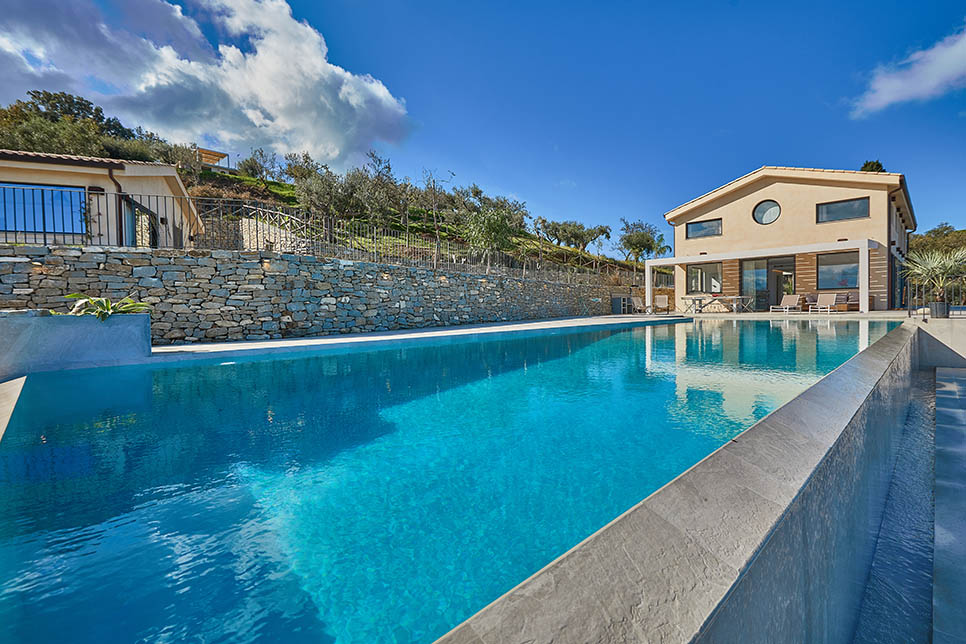 Sophisticated luxury
Get ready for some very high-tech designer living at Casa dei Sogni where subtle design features reflect the villa's surroundings. The dining area is dominated by an extraordinary lava stone wall and, all through the villa, brilliant splashes of blue, yellow and orange evoke the sky and citrus orchards. Other highlights include a smartphone App to control the integrated sound system, a super-accessorised modern kitchen and, outside, a stylish dining area and lounge-style seating. Facilities at Casa dei Sogni include a pool, outdoor kitchen and large outdoor children's play area.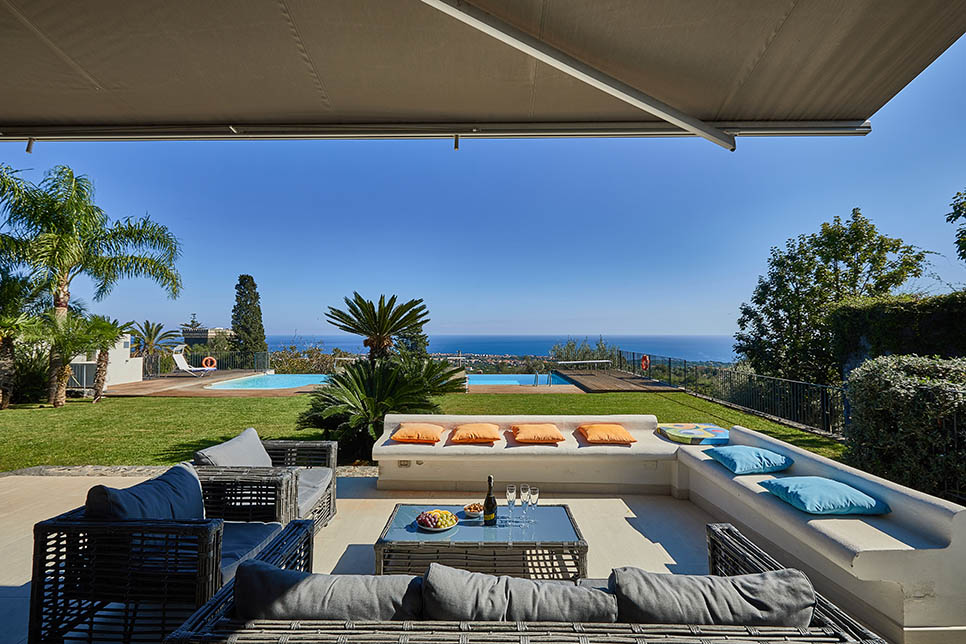 Designer views
Enjoy breath-taking views from the vast panoramic terrace and stunning 18m infinity pool at Villa Dioscuri in Tindari, north east Sicily.  Outside, the pool area is straight out of a designer magazine, while interiors are more traditional. Look out for antique furniture, terracotta stone floors and exquisite Sicilian tiling. 5-bedroom Villa Dioscuri has an 18m pool, table tennis and a 6-seater inflatable jacuzzi.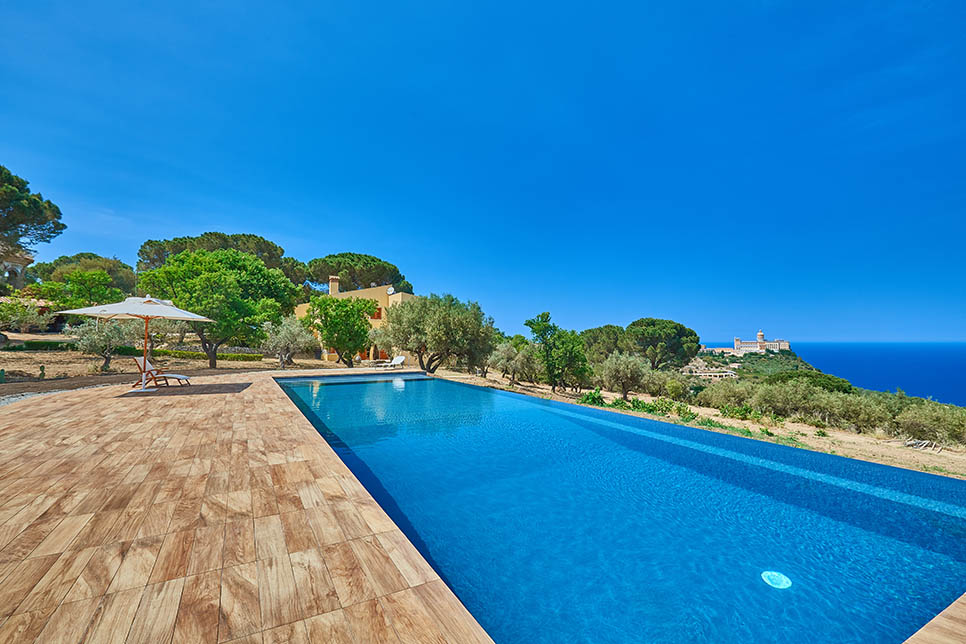 Contemporary style
Set in the countryside close to fantastic baroque town of Noto, brand new Villa Rebecca is the picture of contemporary style.  Chill out on the super-sized dazzling white sofa, looking out across the garden and south east Sicily's rural landscape, or on one of the double sunbeds by the pool. Bash out a few sets on the clay tennis court then retreat to one of the uber-chic hotel-style bathrooms before a sundowner on the rooftop terrace. Villa Rebecca is a 4-bedroom villa close to the sandy beach at Lido di Noto and the magnificent towns of Noto and Syracuse.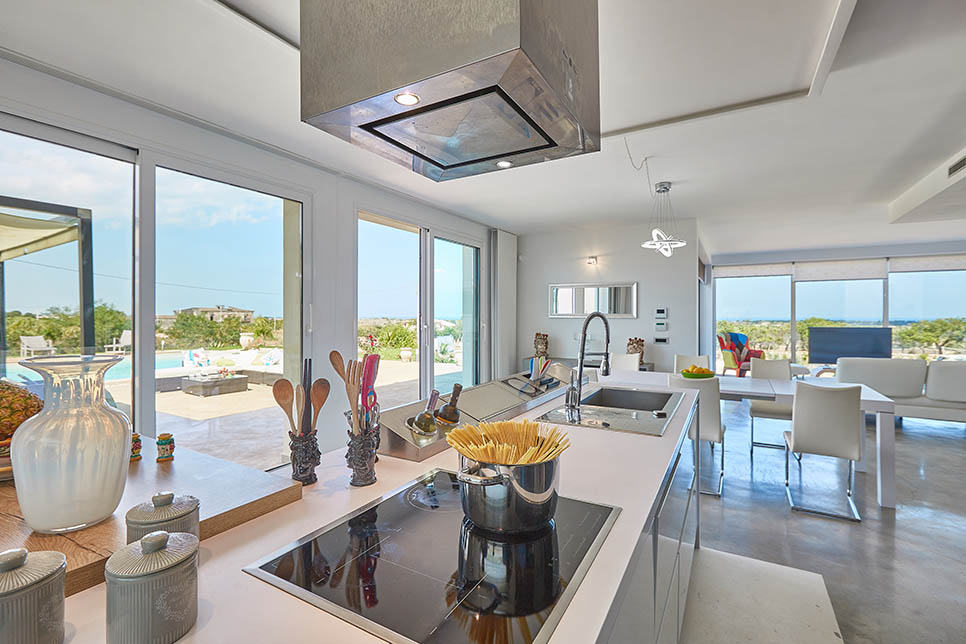 Designer garden
At Casa Turi, the emphasis is on outdoor living. Chill-out zones on spacious terraces, hammocks and a to-die-for outdoor kitchen come with the territory. Wander through the huge floor to ceiling glass doors into the double-height open-plan living room, with dining area and gleaming contemporary kitchen. The master bedroom comes with a sunken bath with garden views.  Set in a rural landscape close to Trabia in north Sicily, Casa Turi (sleeps 11) also has a private pool.