8 fabulous villa pools in Sicily
There's only one place to be when the mercury starts to climb and that's in the water! If your idea of heaven is topping and tailing your day with an early morning dip and a sunset swim in your own private pool, then the chances are your choice of villa will be strongly influenced by the pool.
Most of our Sicily villas have a private pool but they can vary enormously. Not surprisingly, show-stopping infinity pools with a view remain a firm favourite with most guests but if you have toddlers, a lagoon-style pool makes for an easy life. But the good news is that you don't need to stay in a huge villa to have your own pool. Many of our smaller villas also have their own private pool. For example, two-bedroom Casa del Carrubo is a relatively compact villa but has a stunning garden with pool and jacuzzi.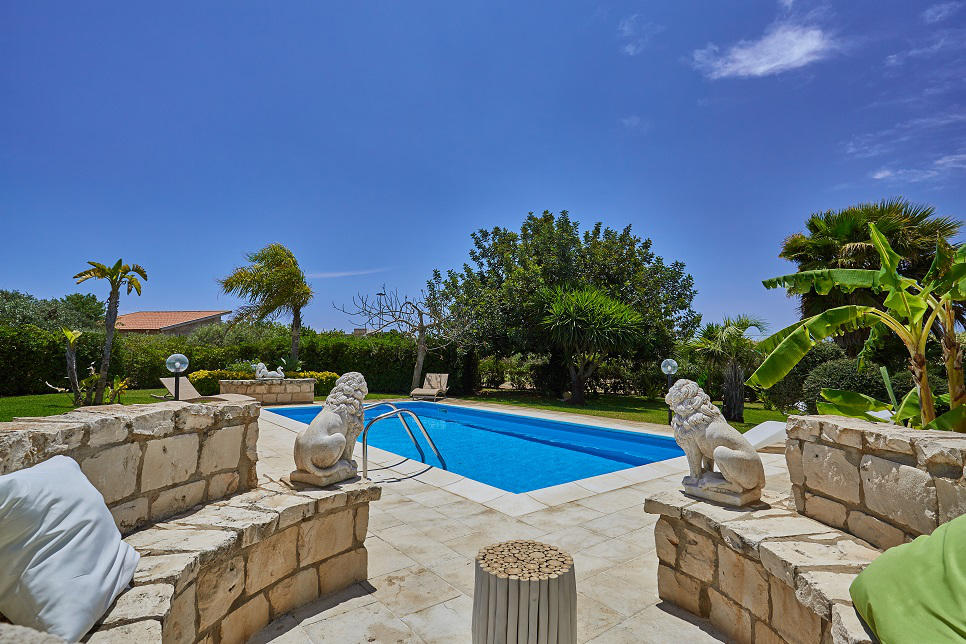 Holidaying during the cooler months? Then you may be interested in a villa with a heated or covered pool. However, for those who like to start their day with a 1500m water-based sprint, size is all. Read on to discover some of our favourite villa pools in Sicily.
Pool with a view
Seemingly suspended on the hillside with dramatic views over the Sanctuary of Tindari and the Tyrrhenian Sea, the pool at Villa Dionisio is the ultimate pool with a view. Surrounded by sleek poolside terraces with a shaded dining terrace, the pool area is every bit as glamorous as the villa's glossy interiors.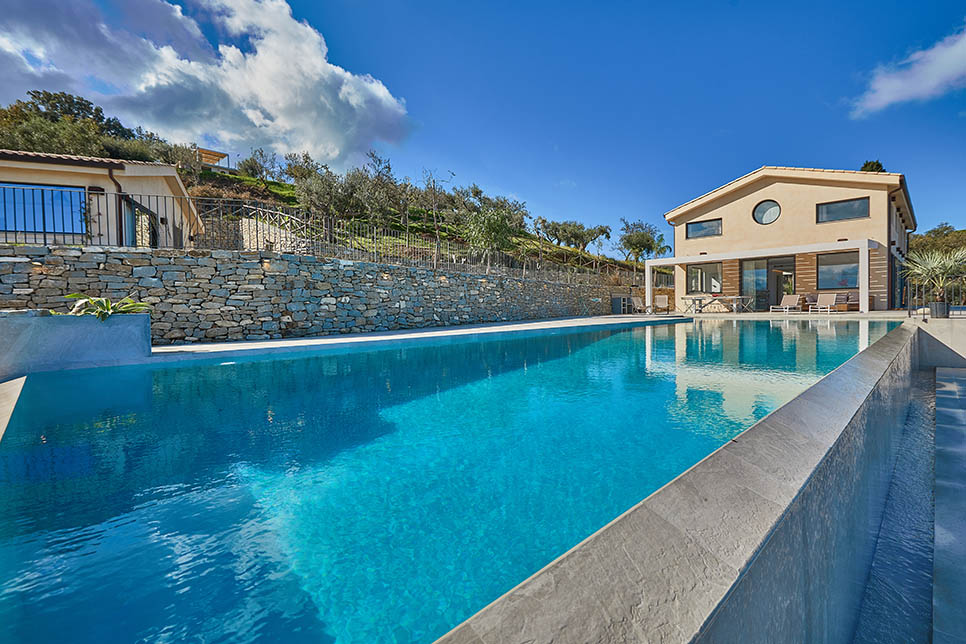 Aeolian Island views
The views from Nefele are equally spectacular. Lounge on sunbeds on the smooth wooden decking around the pool and gaze out beyond the sparkling turquoise pool to the coastline below. You'll be able to make out the shady outline of the volcanic Aeolian Islands in the distance.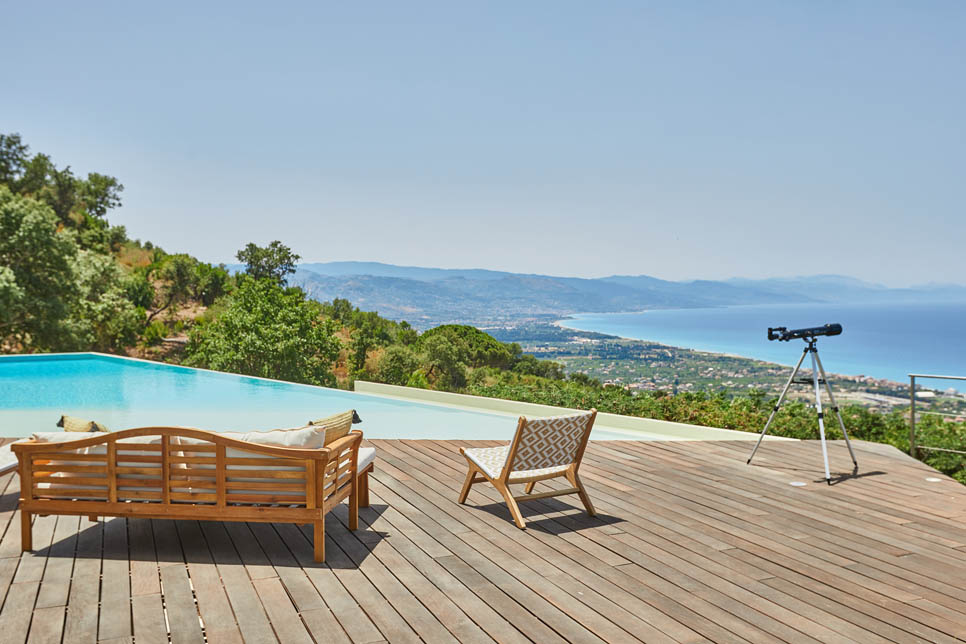 Swimmers' delight
While some of our villa pools are perfect for cooling dips and having fun with the kids, swimmers looking to notch up some lengths will love the 18m pool at Case Fil. And it's guaranteed to be a hit with other members of the party too. Be the first down in the morning for an early morning laze on the two-person sun mattress that hovers above the water at one end of the pool, and keep cool by trailing hands and feet in the water below.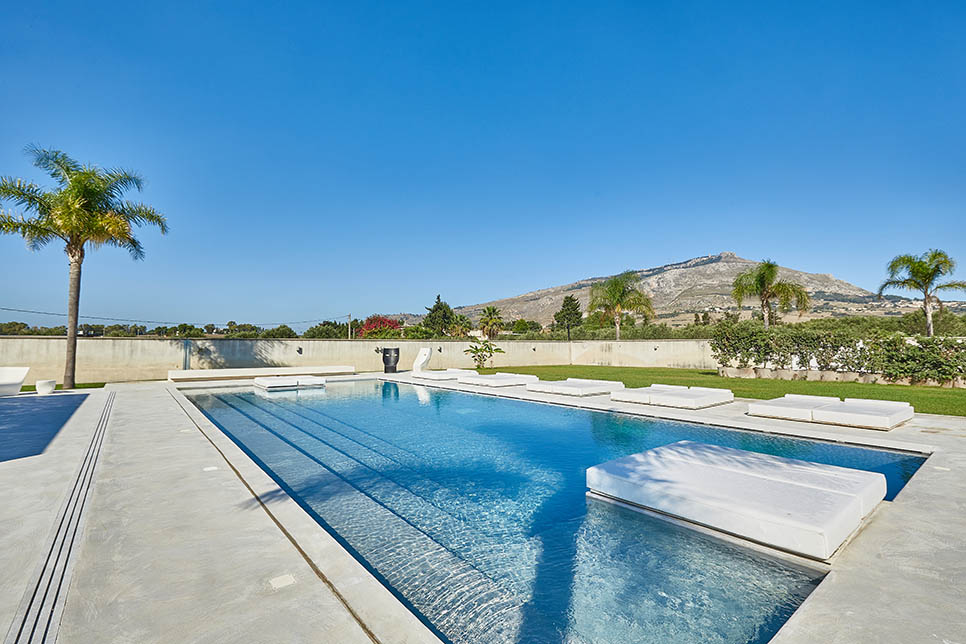 Pool complex
You'll also be able to get a good workout at Villa Cecilia Trabia's main pool, a 20m swimmer's dream with marked swimming lanes. The large group accommodation (main villa and 3 separate cottages) also has a fabulous children's pool and huge jacuzzi, all set amongst extraordinary flower and plant-filled gardens. The villa and cottages can each be booked separately.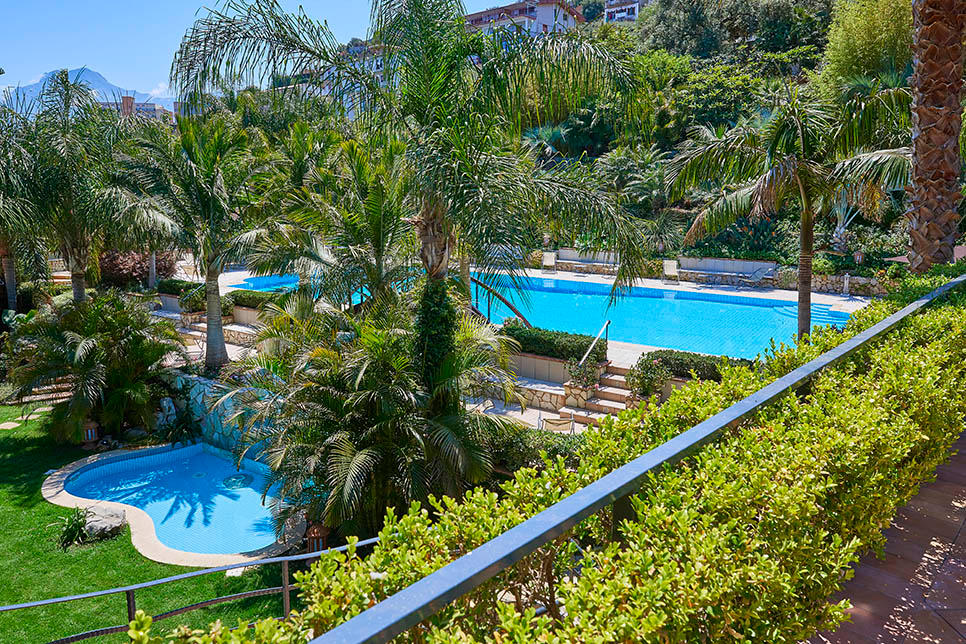 Rural hideaway
Perched in the hills above Cefalù, the infinity pool at Villa Arte Mare Blue is tucked away in a blissfully secluded stone-walled setting, with a backdrop of olive trees and leafy foliage. Despite the villa's location just a short drive from the lively seaside resort, the gardens and pool area provide complete peace and tranquillity.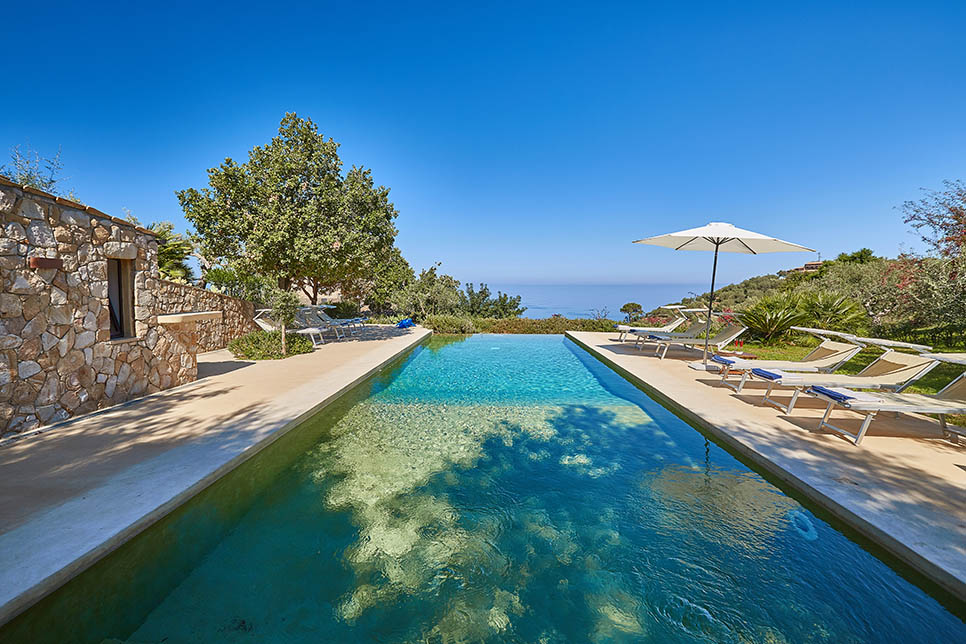 Lagoon-style luxury
Surrounded by giant boulders and with water features, gently shelving lagoon-style borders, and an outdoor shower straight out of a desert island setting, the kids will feel like they've arrived at their own private waterpark at Villa Giuffre! But the pool and villa will also win favour with any adults in the party. The stunning 3.5-acre tree-filled garden also has a hot tub, wisteria-clad walkways, terraces, and sea views.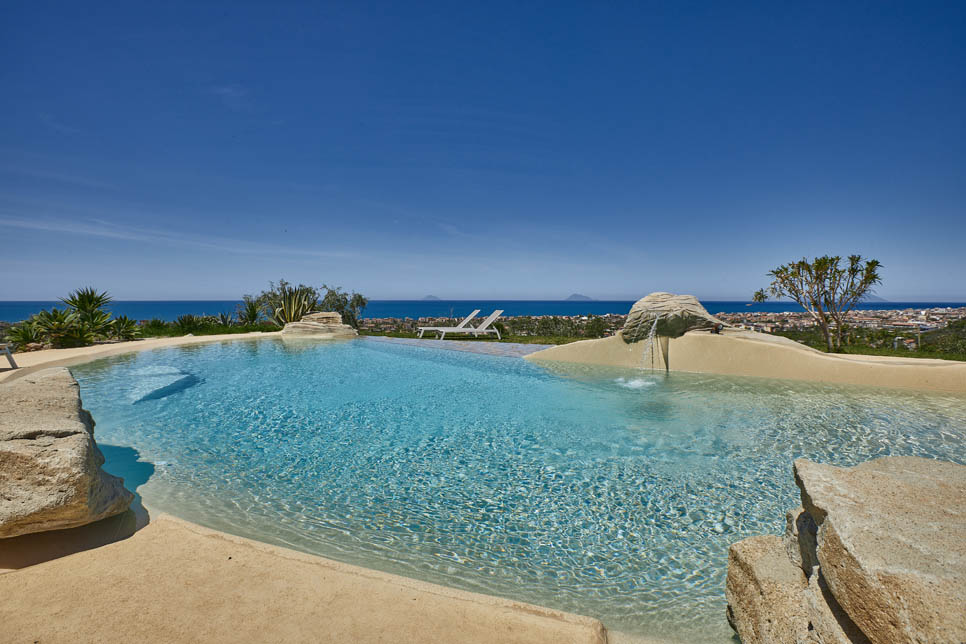 Feel the heat this autumn
During the summer months, the cooler the pool, the better. But if you're holidaying in Sicily in May or September and prefer your water to be on the slightly toastier side, then a heated pool may be just what you need. Gemma (sleeps 9) is the ideal choice for a low season break. Quite apart from the heated pool, there's a superb enclosed outdoor kitchen with everything you need for food preparation, including a pizza oven.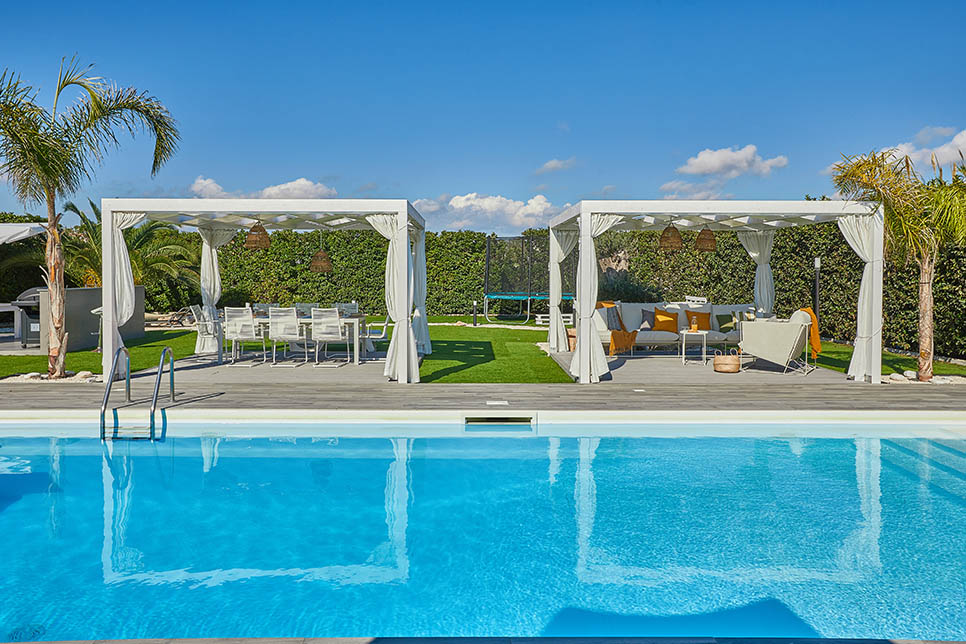 Covered heated pool and mini spa
Looking for a guaranteed pool option? Set close to the beaches of southeast Sicily, Villa Marea's heated pool has a giant dome-shaped temporary cover so swimming is always an option, even in the winter months. Better still, a mini spa area with a hot tub and sauna is the perfect retreat at the end of a busy day of sightseeing.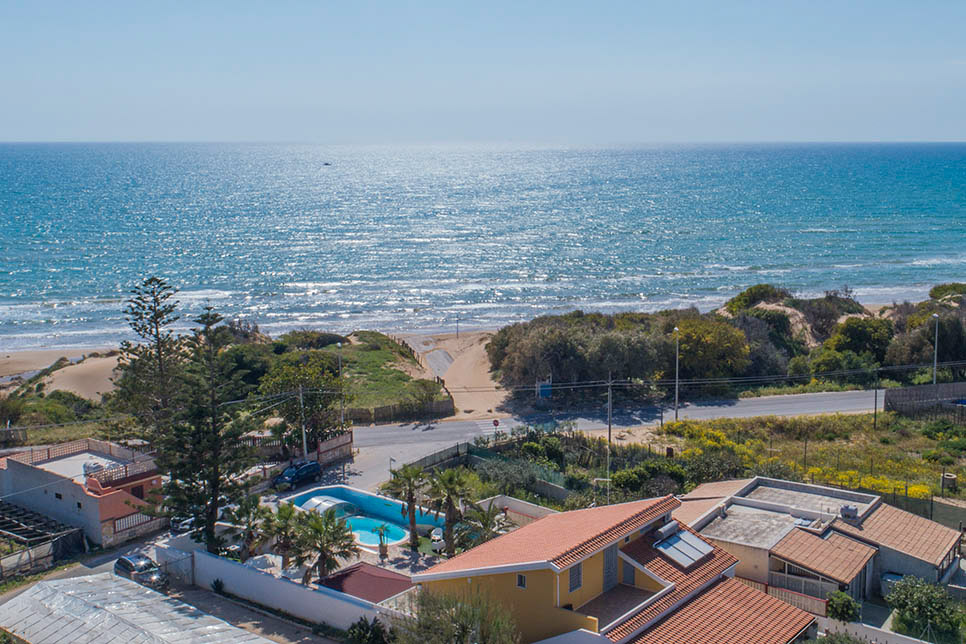 Visit our full list of villas with pools here.