On your vacation you will not want to miss out on seeing the charming picturesque city of Taormina, Sicily. It is a historically rich city perched on top of a rocky mountain overlooking the sea. The city has been influenced by the Greeks, Romans, Byzantines, Arabs, Spanish and French, making it a wonderful microcosm of history. Here is a nice guide to Taormina and the best ways to enjoy this magical city.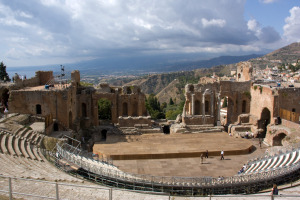 The weather in Taormina is usually nice and sunny, especially during the summer months, so it is best to enjoy its medieval streets and best attractions. The beaches have amazing views of Mount Etna.
What to see in Taormina:
the Taormina Greek theater
the Roman Amphitheater of Taormina or Odeon theater
Taormina market
the castle in the Castelmola district of the city
the 14th century abbey Badia Vecchia
Palazzo Corvaia
Of course these are only a few parts of Taormina's history and attractions, but there are also a few excursions you can take nearby the city. The nearby city of Naxos is the oldest Greek city in Sicily, and is only a few kilometers away. Mount Etna is also reachable but the real gem is the Alcantara Gorge and its beaches. It is a basalt formation created by the volcano which makes for a stunning view and a wonderful beach excursion during the peak of tourist season.
The local cuisine is yet another highlight of this charming city. The main streets are lined with restaurants serving up the best seafood, pizza and other local cuisine. The city is connected by a cable car that can take you up and down the hill, making it an easy and wonderful destination for anyone traveling to Taormina. It is such a unique city rich with history and a view that is not to be missed.