If you're considering a holiday in Sicily this summer, the chances are that you're going to want to be fairly close to the water. Temperatures in May and June are pleasantly warm but once you hit the peak summer highs, you'll probably want somewhere to cool down.
For those of you desperate to dip a toe into crystal-clear sea water, we have a great selection of villas which are either walking distance or just a short hop in the car to the nearest beach.
Of course, there's nothing quite like having your own private swimming space – we know that sometimes even 1000km+ of coastline just isn't enough! Which is why staying in a villa with a private pool feels like the ultimate indulgence, particularly when it's an infinity pool with heart-stopping views. So we've done the hard work for you and picked out our five of our top villas with pools:
Sound of the sea
At Casa dei Nomadi, you can dangle your feet in the pool and enjoy the sound of the sea. With a beautiful decked pool area, jacuzzi and walkway straight onto the beach, Casa dei Nomadi is heaven-sent for water enthusiasts. The villa's stunning landscaped garden has been cleverly designed to provide separate 'living' areas, with a veranda, a decked dining area and, right on the beach, a private patio for the exclusive use of villa guests. The 5-bedroom villa (sleeps 12) is close to Cefalù in northern Sicily.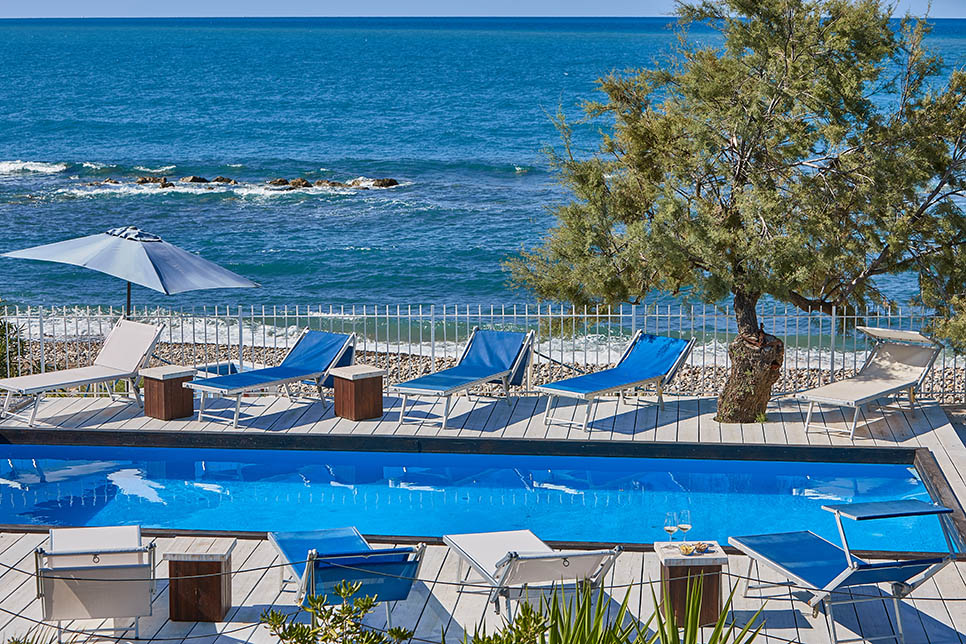 Not one, but three!
It's not hard to see why Villa Cecilia Trabia is one of our top holiday homes for large parties. Its pride and joy is its magnificent flower-filled gardens, at the heart of which sits an extraordinary pool complex overlooked by a large open gazebo that acts as an additional living room. Start your day with a swim in the alluring 20m pool and end it with a relaxing soak in the jacuzzi under a canopy of ferns and palm trees. The third pool is a children's splash pool.
Villa Cecilia Trabia comprises a main villa and three separate dependences, with a maximum occupancy of 22 people. The villa is in northern Sicily, between Palermo and Cefalù.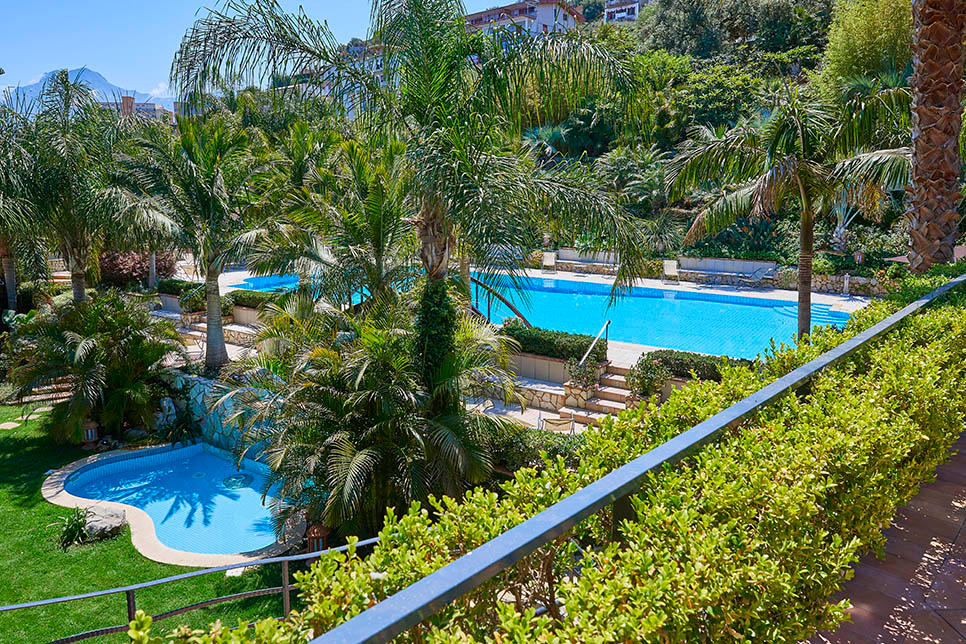 Hideaway rural retreat
Delightfully secluded, amidst leafy trees and green foliage, the infinity pool at Villa Arte Mare Blue is the ultimate rural escape. Despite its tranquil location, the sandy beaches of Cefalù on the north coast are just 10 minutes away by car. The pool is set in one part of a large rambling garden, dotted with eccentric art works and statues, and overlooked by terraces and a magnificent outdoor kitchen.  Be prepared for hidden surprises in the shape of Spiderman and shark heads at this quirky and contemporary 5-bedroom villa!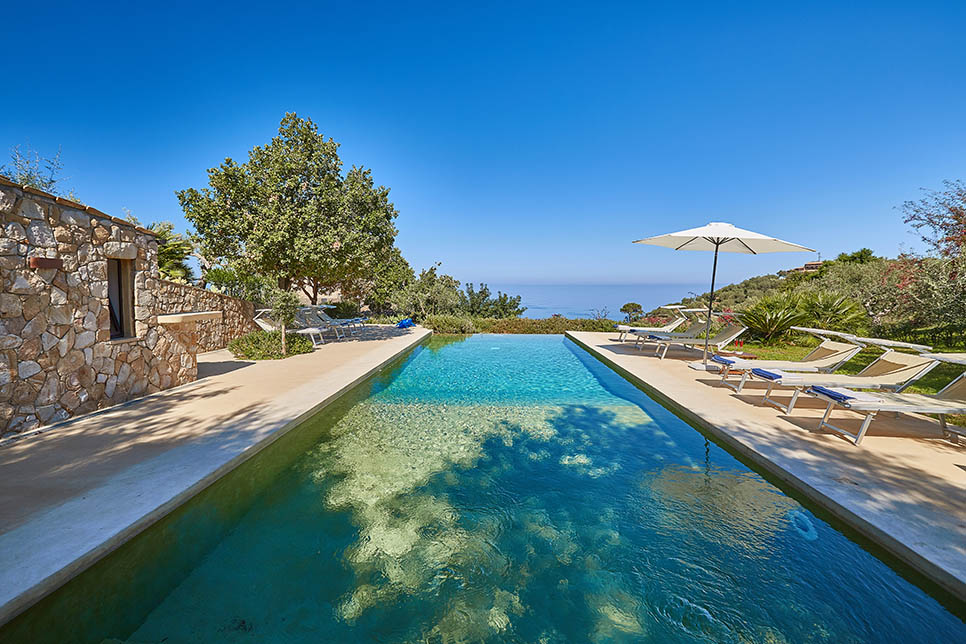 Dazzling coastal views
Pull up a sunbed and gaze out over one of Sicily's most iconic sights, the dramatic Sanctuary of Tindari.  Perched high above the sea, Tindari is a place of pilgrimage but also renowned for its ancient history. Ancient Greek walls, Roman baths with floor mosaics and a well-preserved 4th century BC theatre are still in evidence and the legends surrounding the Black Madonna, now housed in the Sanctuary, add a wonderful element of mystery to the town.
Villa Dionisio's interiors are no less spectacular than the view. Vast picture windows, a super-stylish kitchen and bathrooms and some exceptional design features deliver extremely sophisticated holiday living. The main villa sleeps 6, with a separate guesthouse (for 4).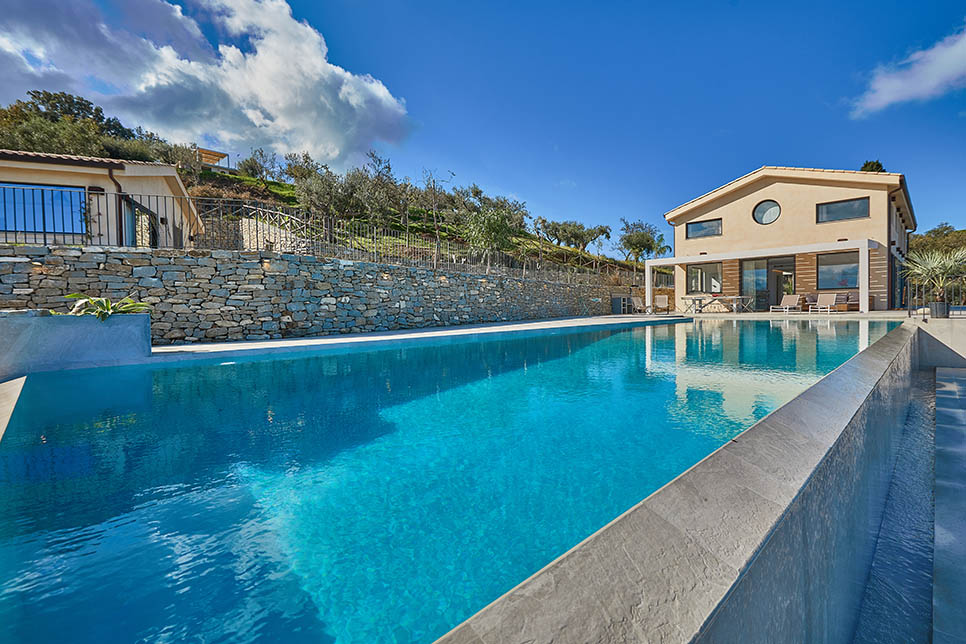 Jacuzzi indulgence
Casale Arezzo is a gloriously atmospheric 4-bedroom masseria in the heart of south east Sicily. Yet amidst the ancient archways and cobbled courtyards, an impressive pool and jacuzzi provide incredible views over the tranquil Ragusa countryside. If you're interested in exploring baroque south east Sicily, Casale Arezzo is ideally placed to do just that. Equidistant to Ragusa and Modica, with their ancient palazzi and churches, the villa is just a short drive to the long sandy beaches that stretch from Scoglitti to Punta Secca and from Marina di Ragusa to Pozzallo.