When it comes to special occasions and family celebrations, finding a luxury villa in Sicily that's big enough for everyone is probably the easiest route to a happy holiday. Invest as much time as you can into choosing the right villa and the payoff will be a week full of memories that will last forever. We have picked out three of our top large villas to rent in Sicily for families and big groups.
Le Case di Tindari – rural estate in north east Sicily
Tucked away in the Sicilian countryside, Le Case di Tindari is a fabulous Sicily villa with an 18m pool with dazzling views over the Tyrrhenian coast and more than enough room for the estate's 21 guests. Beyond the pool, there is table tennis and a football table, and a complex of apartments and cottages all enclosed by vast expanses of olive and oak trees and infused with the scent of rosemary and other Mediterranean herbs.
The stylishly converted accommodation at Le Case di Tindari works perfectly for extended families and groups looking for some independence, with accommodation for up to seven in the main farmhouse and a collection of apartments that sleep from two to four. Gather on the vast dining terrace, which has a barbecue and original wood burning oven, for Italian-style al fresco dining or, for that special occasion, book a chef to take control and rustle up a fabulous Sicilian feast for everyone.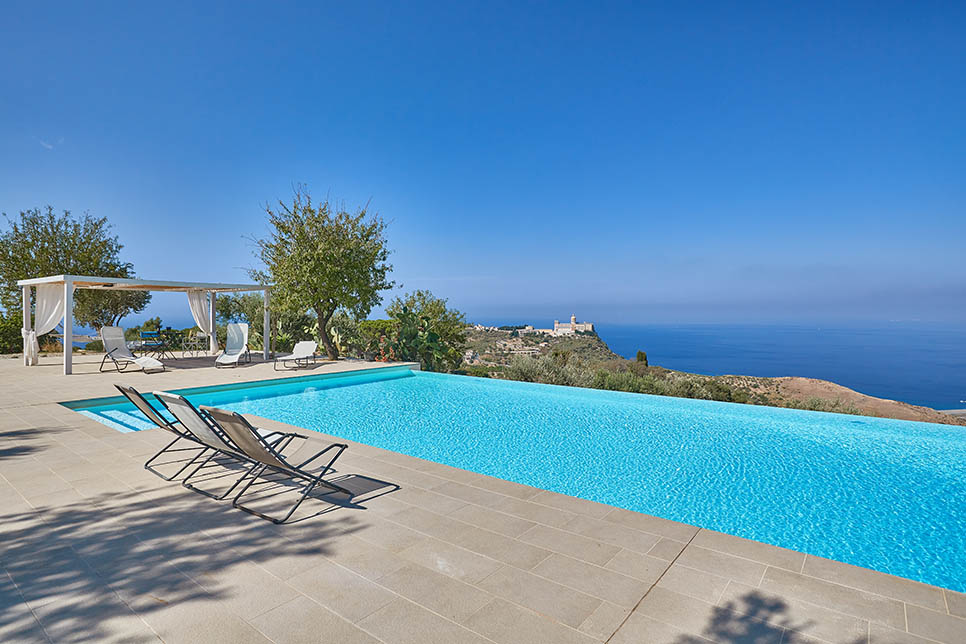 Hiking and gourmet tours at Villa dei Nebrodi
Forest walks, lake swimming and delicious local gastronomy are just some of the attractions of a stay at Villa dei Nebrodi. This 7-bedroom villa hovers at the edge of the Nebrodi mountains, one of Sicily's least discovered regions, with poolside views over the pretty town of San Marco d'Alunzio and plenty of space in the garden for the kids to let off steam.
If you're looking for a catered option, Villa dei Nebrodi ticks all the boxes. Come down each morning to a wonderful breakfast spread that includes local cheeses and ham and take advantage of our in-villa chef option for your evening meal. For groups looking for organised activities, there are hiking excursions to the dramatic Rocche del Crasto and gourmet tours in the surrounding area.
Family fun at Le Case dell'Etna
A Sicilian villa estate with two pools, a children's play area and several vast lawns are likely to be a winner for two to three families looking to holiday together. The three villas (sleep 8, 6, 4) at le Case dell'Etna are completely independent of one another and each have their own terraces and private outdoor space. Treat the kids to a fun-filled day out at Etnaland, a three-in-one theme park, aqua park and dinosaur park or, for the ultimate adventure, a cable car ride up Mount Etna.