Traditional festive Christmas and New Year celebrations
Christmas is coming and with it, a sparkling display of nativity scenes, twinkling lights and a selection of foodie treats. As you'd expect, the Christmas period in Sicily is both traditional and religious but you'll also find plenty of festive fun. It's also a brilliant opportunity to get a real insight into life in Sicily without the tourists.
Weather in Sicily at Christmas
In spite of Sicily's proximity to Africa, you're not going to find soaring Mediterranean heat. Temperatures tend to range from around 11 to 16˚ but this can vary further depending on where you're staying. Not surprisingly, it's cooler in the mountains, with some skiing on the snowfields of the Madonie and Etna, but warmer on the coast with the possibility of winter sunshine.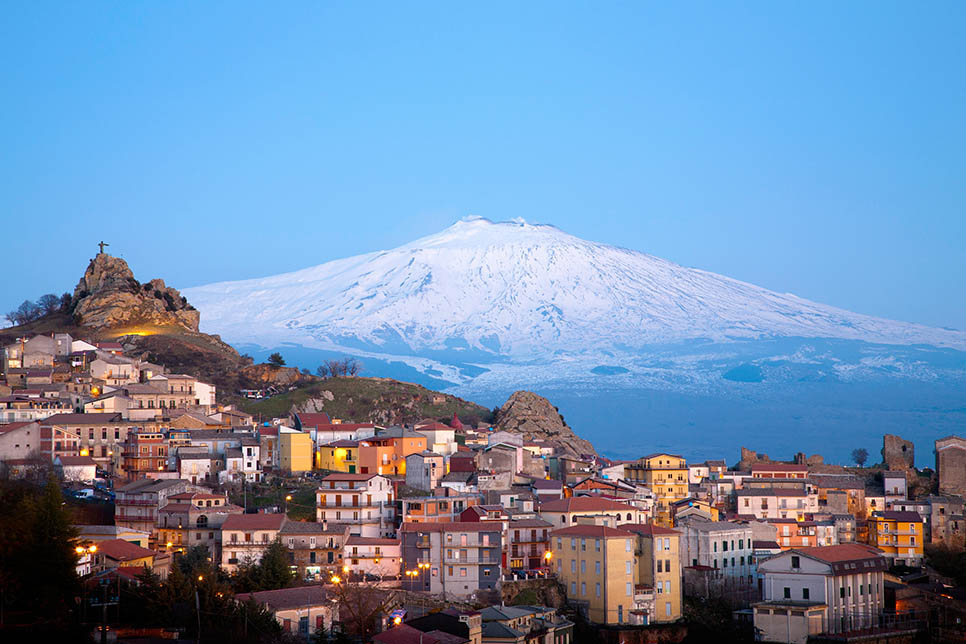 Christmas traditions in Sicily
For children, the countdown to Christmas starts on the 16 December with the Novena di Natale when children are encouraged to get involved in church activities including lighting candles and singing carols. For visitors to Sicily, the sound of choral music filling the island's most beautiful churches and cathedrals can be very evocative.
Outside churches, bonfires are lit to keep baby Jesus warm, and during processions such as the one dedicated to Santa Lucia in Syracuse (13 and 20 December), streets are aflame with candles and the fiery red leaves of poinsettias.
Epiphany on 6 January bookends the last of the Christmas celebrations. Children leave their shoes and stockings out on the evening of 5 January ready for a visit from La Befana, a witch who brings treats for good children and lumps of coal for the naughty ones.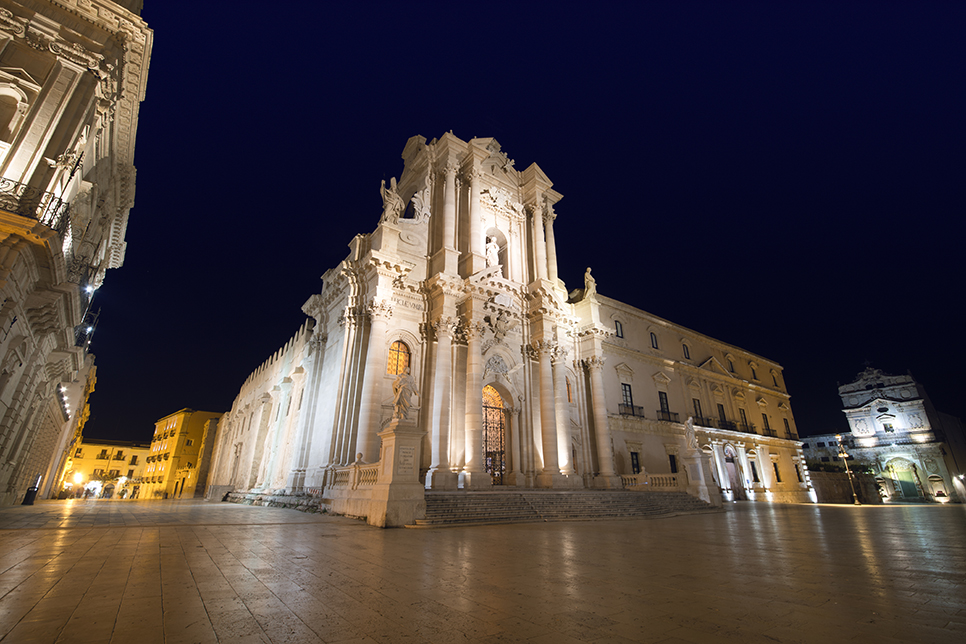 Nativity scenes and 'presepi viventi'
You'll find nativity scenes in most towns and cities. In Trapani, handmade nativity scenes are to be found throughout the town and Christmas decorations adorn the piazza and churches. In some towns, the nativity scenes literally do come to life: 'presepi viventi' are live nativity scenes enacted by local people. The most dramatic are in Custonaci near Trapani where the nativity scene takes place inside a cave, and also in the Cava d'Ispica, amidst rugged cliffs and catacombs.
Christmas festivities in Sicilian towns
You'll find plenty of colourful celebrations wherever you are but festivities do vary from one town to another. In Taormina, alongside the concerts, parades and live nativity scenes, a parade of brightly-painted traditional Sicilian carriages hurtle through town providing an eye-catching spectacle. Festivities are more low-key in neighbouring Catania but a show-stopping tree is displayed in front of the Cathedral, and nativity scenes and crafted cribs dot the city.
Meanwhile, on the west of the island, in Erice, you'll be greeted by concerts, parades and handmade nativity scenes throughout the cobbled streets. In Palermo, the bustling markets are filled with the aroma of roasted chestnuts and provide an excellent opportunity to stock up on Christmas food.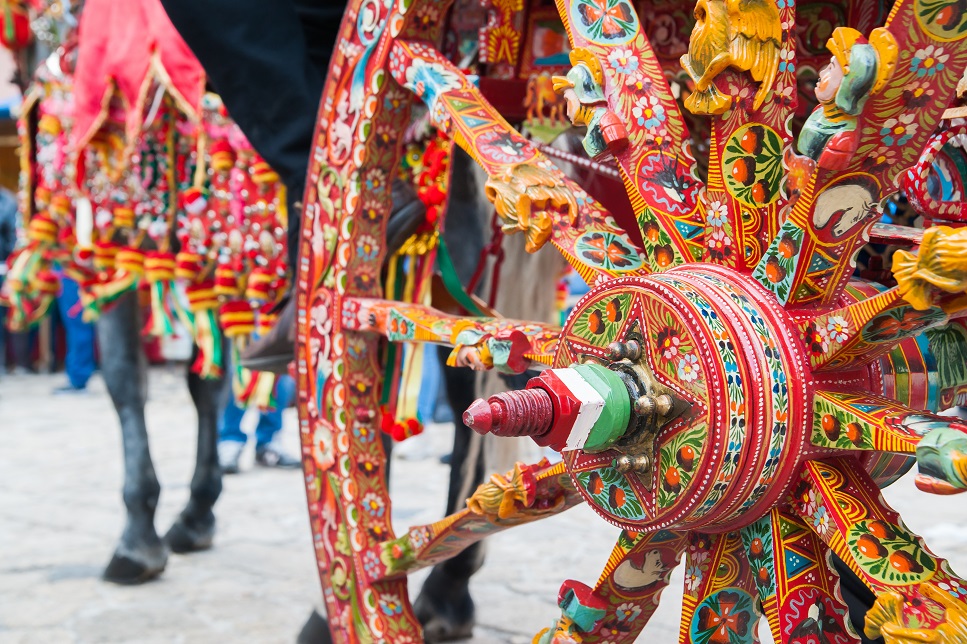 Sicilian Christmas and New Year food traditions
Panettone and pandoro needs no introduction, but how familiar are you with buccellati? Filled with dried figs, almonds, walnuts, hazelnuts and honey, these biscuits are found in every Sicilian home at Christmas. And of course, they're different in every household, resulting from recipes that have been handed down from one generation to the next.
In Sicily, dinner on Christmas Eve takes precedence over Christmas Day lunch, taking the form of several courses, often involving seafood. This will kick off with appetisers and antipasti, followed by a pasta-based second course and a fish main course.  Then there are Christmas cakes featuring fresh ricotta (Cassata Siciliana is the most popular), candied fruit and nuts – and all washed down, of course with some excellent local wine or spumante.
Naturally, the multi-course dinner and flowing wine is repeated on New Year's Eve, rounded off with a cassata and display of nougat and dried fruit – and last but not least, lentils, or 'lenticchie', shortly after midnight for an extra large portion of good luck!