Take a mouth-watering culinary journey in Sicily
Spend any length of time in Sicily and you quickly realise that no milestone passes without a substantial feast … and what a feast!  Sicilian cuisine wisely makes the most of what nature throws its way, packed with flavour-busting vegetables, fresh fish, and dishes and delicacies crammed with home-grown almonds and pistachios.
Yet it's also a cuisine that draws on its multi-layered history and so, in common with all Italian regions, has its own set of very unique flavours, traditions and recipes.  In Sicily, for example, you may find yourself starting the day with a fresh warm brioche with a bowl of frozen granita rather than an espresso and 'cornetto' (pastry) which would be a more normal breakfast elsewhere in Italy.
While some food habits are shared across the island, others are specific to a particular area. Want to find out more? Travel round Sicily with us on a mouth-watering culinary journey!
Arab flavours in Western Sicily
It's not difficult to spot the Arab influence on Sicilian food in western Sicily. In the towns of Trapani and Marsala, you'll find dishes infused with citrus and cinnamon, slabs of honey-toffee filled with sesame seeds ('giuggiulena') and rich green marzipan 'cassate'.  Enjoy fish couscous in a broth spiced with saffron, parsley and garlic and, at the fishing port of Mazara del Vallo, try the highly-prized red prawns ('gamberi rossi'), with a spritz of lemon juice and olive oil, in the old Arab city centre.
Pasta still has its place though, with its own original twist. Be sure to taste the 'pesto alla trapanese', made with crushed almonds, tomatoes, basil, garlic and Pecorino, and usually served with 'busiate' pasta.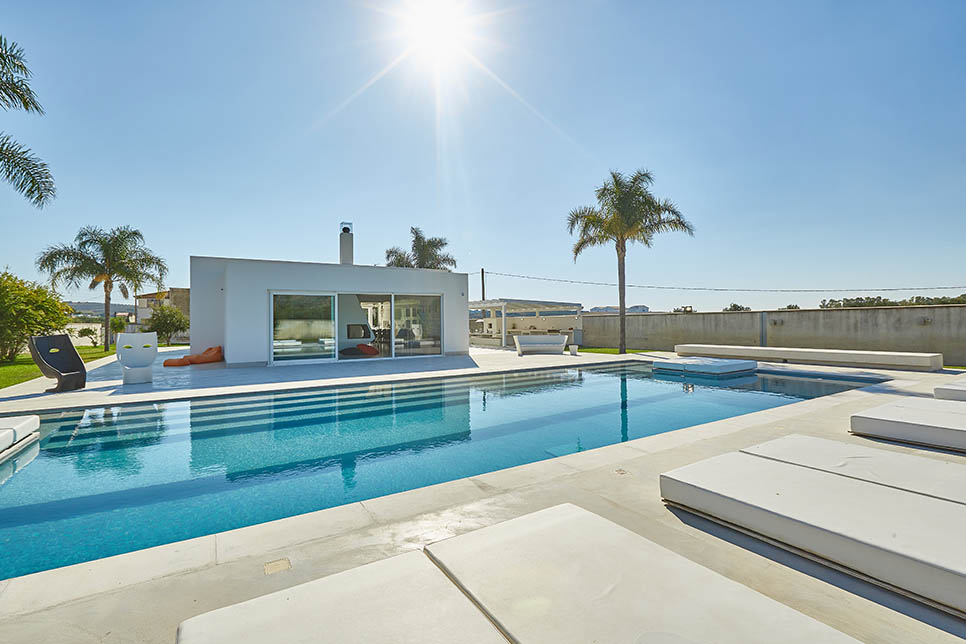 Holiday in western Sicily at Case Fil, a stylish 3-bedroom villa with a dazzling 18m pool near Trapani.
The flavours of Palermo
Palermo is fast acquiring a reputation for some of the world's most exciting street food. Market stalls offer 'panelle' (chickpea fritters), 'crocchè' (potato croquettes) and 'pani ca' meusa' (spleen sandwich), filling the air with the scent of frying and the clamour of street vendors.
'Arancine' – a ball of creamy risotto rice that's breaded and deep fried – are popular across all of Sicily but the stuffing and shape will vary depending on where you are in Sicily.  Grab an 'arancina' in Palermo, and you'll find it shaped like an orange, flavoured with saffron, and, at its core, minced veal, peas, carrot and onion. Over in the east of Sicily, 'arancini' are shaped like Mount Etna and stuffed with shredded veal, tomato sauce and mozzarella.   Then there's the spelling: in Palermo, they take the feminine form, 'arancina' in the singular, while in the east, and the rest of Italy, they take the masculine 'arancino'.
Some dishes such as 'caponata' are ubiquitous in Sicily but the recipe changes regionally and, indeed, from household to household. Aubergines, pine nuts, raisins and vinegar, which gives it a lovely tang, are the basic ingredients but in Palermo, octopus is commonly added.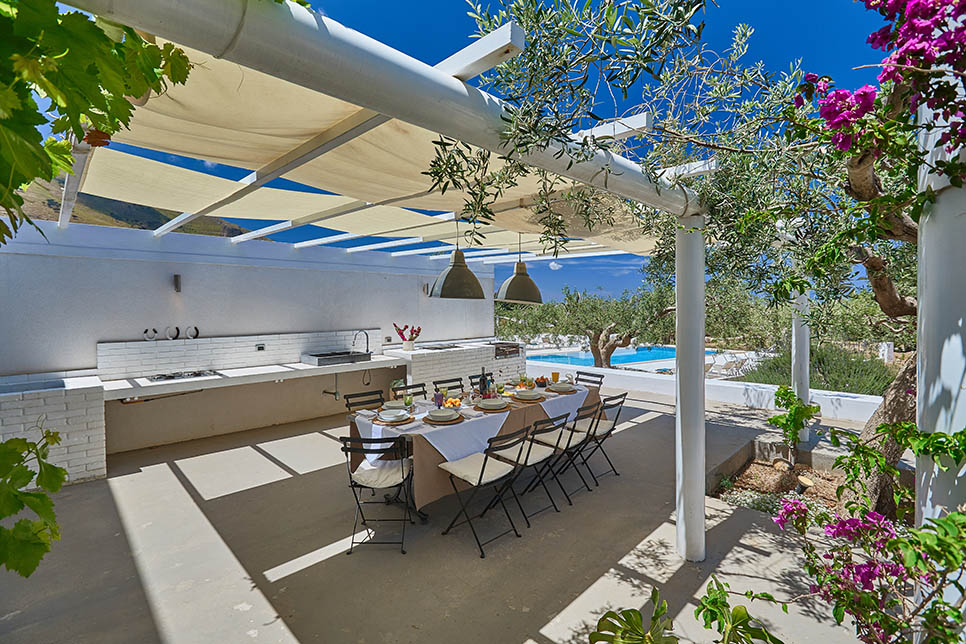 Explore Palermo's food culture from your base at Casa Turi, a 4-bedroom villa with pool and outdoor kitchen in Trabia.
Eating in eastern Sicily
'Pasta alla norma' is Sicilian through and through. Although now found all over Sicily, the dish originated in Catania, named after Bellini's La Norma opera. It brings together the simplest of ingredients and flavours – tomatoes, fried aubergines, garlic, basil and 'ricotta salata' – served with rigatoni pasta shapes.
Check into Terrazza sul Mare on the coast and head inland from Catania, towards the slopes of Mount Etna, to sample superb Etna DOC wine. Dip into honey from Zafferana Etnea and, enjoy pesto, liqueurs, cakes, pastries and ice-cream made from the world-famous pistachios from the town of Bronte.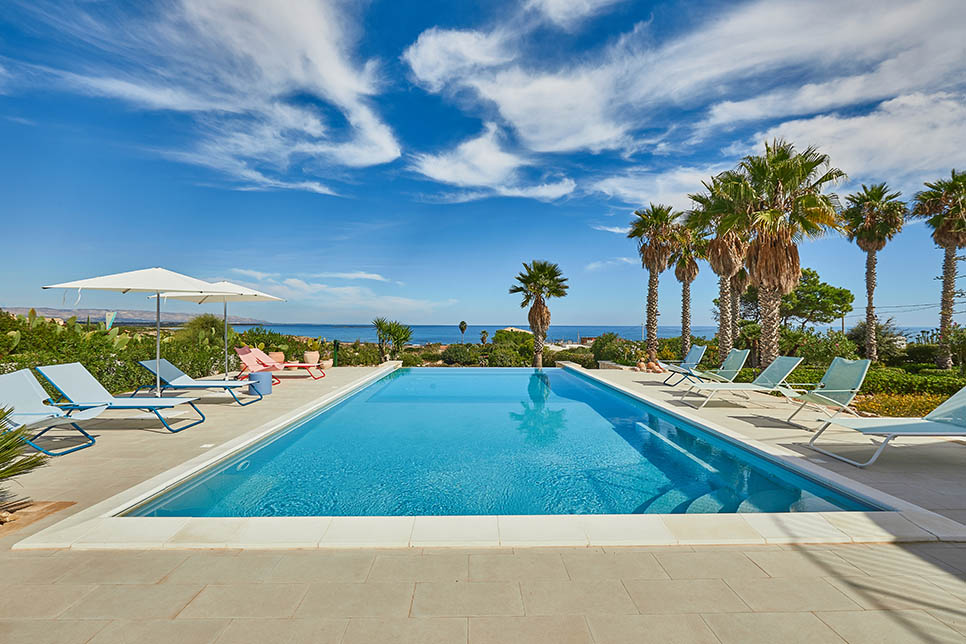 Juicy blood oranges are cultivated exclusively on the plains around Catania and in villages close to Syracuse, and don't miss the almonds in Avola and, further south, the cherry tomatoes from Pachino. Stay at Oasivera and you'll find yourself conveniently close to Avola and Pachino.
Gastronomy in inland Sicily
While fish dishes understandably reign on the coastline, the cuisine in the interior hill towns is quite different. Right in the heart of Sicily, in and around Enna, as well as grilled lamb and goat meat, expect fava beans, wild asparagus and black lentils from Leonforte. Meat, sausages, salami and sheep's milk ricotta are also traditional in the Madonie and Nebrodi mountain ranges to the northeast, together with recipes using hazelnuts, chestnuts and wild mushrooms.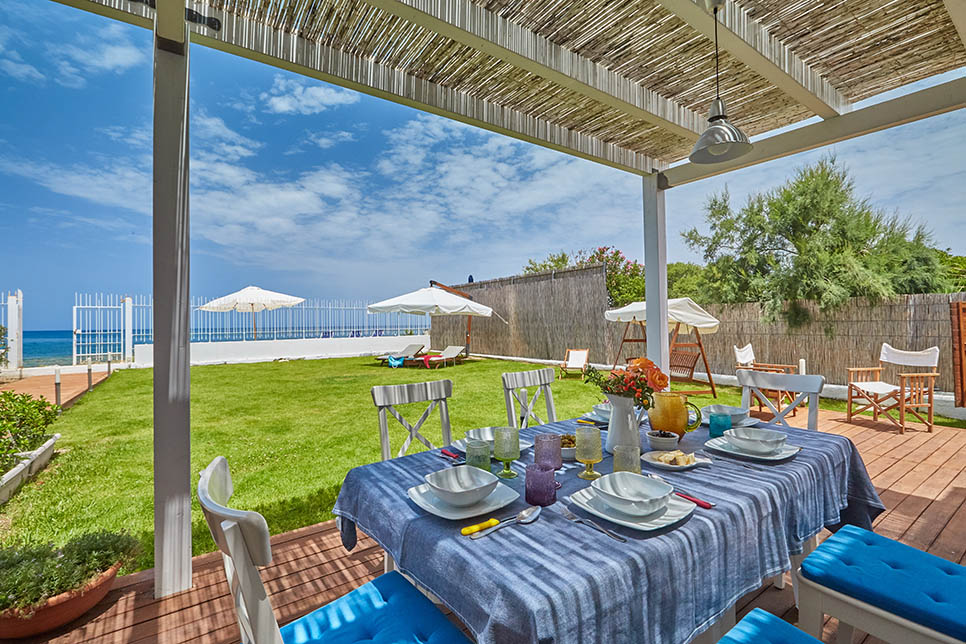 Stay on the coast in Villa Carlotta for easy access to the hilltop villages of the Madonie and Nebrodi mountains.
Interested in learning more Sicilian food? Find out about our cookery classes and other food-related activities available to Wish Sicily guests