Sicilian cuisine has some of the best food that Italy has to offer. Here are the top 10 traditional Sicilian dishes.
Arancine
 This fried rice balls with red sauce and veggies or meet are typical of Sicily. They are perfect for a fiesta snack or as an appetizer before a meal.
Pasta con le sarde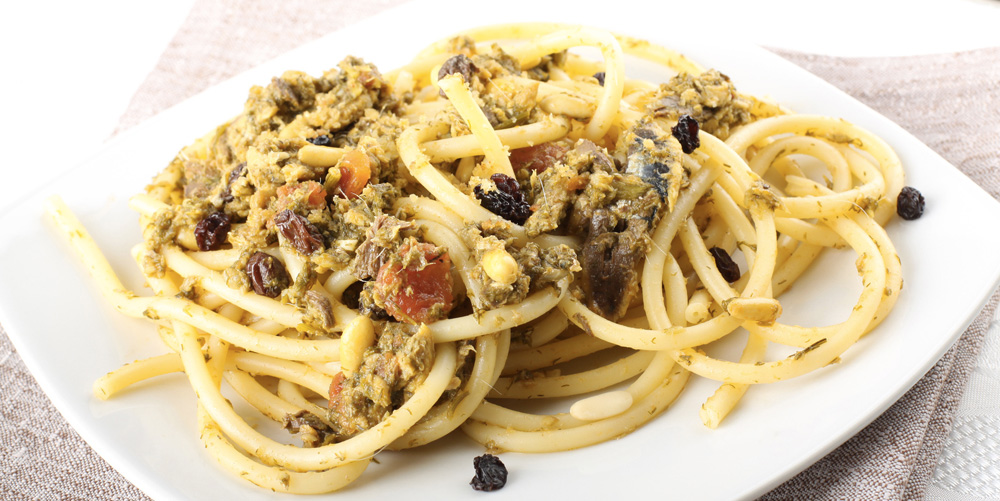 Among Sicily's best food is this pasta with sardines, pine nuts and almonds, dressed with olive oil and white wine.
Involtini di Pesce Spada
Seafood lovers, here is the dish made for you. Sweet and sour stuffed grilled swordfish with anchovy filets, orange and lemon juice and grated pecorino cheese in little rolls dipped in an egg-olive oil mixture.
Pani ca Meusa
 Despite the weird name "bread with spleen", this sesame-flavored bread stuffed with chopped spleens and veal lungs is a delicious specialty of Palermo.
Caponata
 A mix of eggplants, olives, tomato, and extra-virgin olive oil, this is one of the best dishes of Sicily's cuisine loved by Italians from all over the country.
Pasta al pesto di pistacchi
 From the nut to gelato, Pistacchi are a traditional food of Sicily exported all over the world. Delicious on everything, why not making it into a pasta sauce?
Cassata siciliana
 A cake with ricotta cheese covered in almond pasta and icing, this is the perfect dessert for tourists and locals.
Cannoli
 Tourists' favorite dessert: a roll of friend dough of ricotta cheese and candied fruit or chocolate chips.
Granita
 If you are used to drinking hot coffee in the morning, in Sicily you will start the day with an ice-cold granita flavored with fresh fruit, mint or anything you want.
Farsumagru
 This stuffed beef roll plate is Sicily's most typical meat dish.