Choosing a villa for a family holiday is loaded with complex decisions, with budgets, location and 'must-have' facilities all playing their part – and that's before you have even discussed whether holidaying with another family may be a good idea.
So here are some of our top tips to help you along the way, with a small selection of some of our best villas for families.
Beachfront location
If you are working within a budget, decide which is more important – a pool or proximity to the sea. For families with young children, being able to walk straight on to the beach from your garden, without getting in the car, can be incredibly liberating. Starfish House is one of our newest properties, a bright blue-shuttered villa, with a leafy garden with children's play area and a garden gate straight on to the beach.
Situated in Caronia, on Sicily's north coast, the villa is close to the ceramic-producing town of Santo Stefano di Camastra, and within easy reach of the sandy beaches around Capo d'Orlando.  Whitsun week from £1775 (sleeps 4).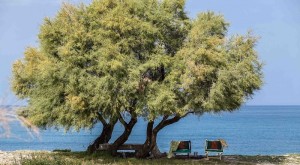 Villas for sharing
Get a whole lot more for your money and keep the kids' squabbling at bay by sharing a villa with another family. Go for all out luxury at Casi o Cantu, a rural retreat in south east Sicily, within easy reach of the beach and a series of eye-popping baroque towns.  Surrounded by wide open terraces and lawns framed by olive and carob trees, the villa has an infinity pool and several spacious living rooms. Bedrooms and bathrooms are exquisitely decorated, with luxury touches such as slipper baths and his and her basins.
The villa is in the heartland of baroque Sicily, within easy reach of Modica, Ragusa, Scicli and Noto, and approximately 30km from the sandy beaches at Pozzallo and Marina di Modica. Whitsun week from £6484 (sleeps 10).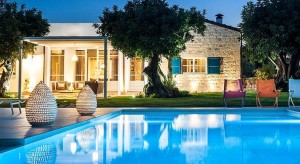 Bring the (extended) family
A multi-generational break can actually prove to be more relaxing than you might imagine and with grandparents and a healthy sprinkling of cousins on tap, parents stand a better than average chance of time out.
At Le Case di Tindari, accommodation is in a main farmhouse and a cluster of independent bougainvillea-clad cottages, with a fabulous shared infinity pool, table tennis and endless hide and seek opportunities. All the properties are extremely stylish, with original tiling, antique furniture and wooden beamed ceilings. Enjoy large lively al fresco mealtimes prepared on the barbecue or in the original wood burning oven alongside the outdoor kitchen. Whitsun week from £6068 (sleeps 21).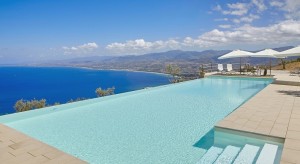 Fun for all the family
With a juke box, games room and an external annex (the Shark House), 5-bedroom Villa Arte Mare Blue on the north coast is a great option for families with teenagers. The kids will also love the eccentric art installations – a Spiderman figure clambers up the villa's exterior, and eccentric statues and animal sculpture are dotted around the garden.
Catering is easy, with an outside kitchen with traditional wood-burning pizza oven and there are glorious rural views towards the sea from sun-baked terraces and a secluded pool.  The town of Cefalù (ten minutes by car) is a great spot for families, with long sandy beaches and a good selection of restaurants, bars and gelaterias.  Whitsun week from £2888.