Strolling leisurely through food street markets and rummaging amongst piles of antiques is one of the great pleasures of being on holiday, and particularly when you are abroad. Buying food or other items is almost incidental – the thrill is often in the aromas, sounds and sights that attack you from all directions.  Messina, Trapani and most of Sicily's main towns and cities have their own markets but none are on the scale of the fish markets and food markets those found in Palermo and Catania.
Flea market in Palermo Sicily
The city's markets – Il Capo, Ballarò and Vucciria – date back to the ninth century and are distinctly reminiscent of Arab souks. Il Capo is possibly still the most authentic of the three, with an excellent range of fish and food stalls selling everything from fruit and vegetables to Modica chocolate, while La Vucciria is Palermo's most established outdoor market and the preferred market for tourists. Situated in the historic centre of the city, this is one of the most popular spots for sampling some of the city's famed street food, such as arancine, pizza-like sfincione and a pane e panelle chickpea sandwich.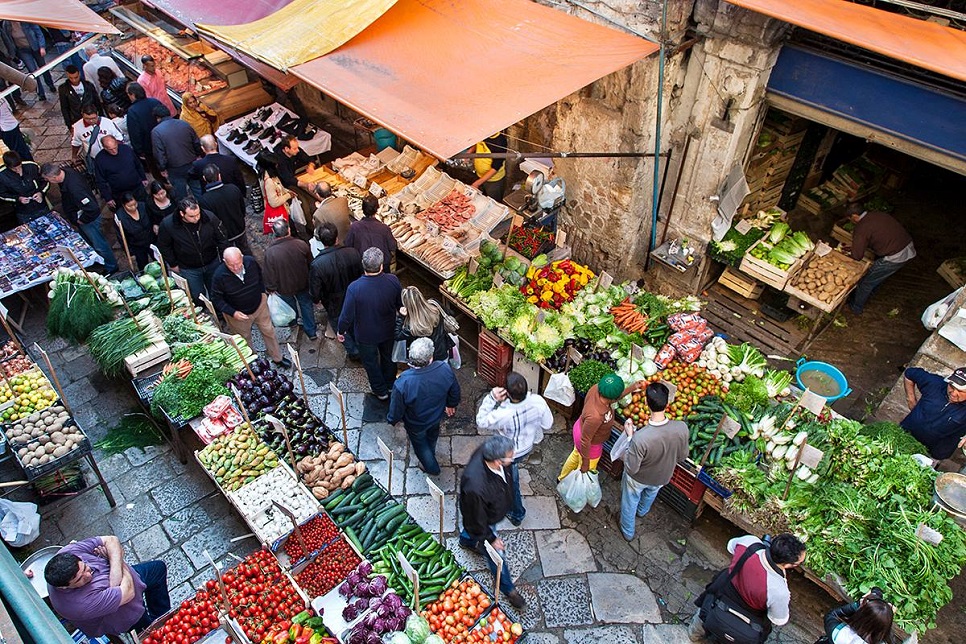 Street market in Catania Sicily
Catania, on the east coast, is home to two markets. The main Fera o Luni market takes place in the attractive baroque Piazza Carlo Alberto, spilling out into the side roads and selling everything you could possibly need, from fish and fruit to clothes and shoes.
Meanwhile, La Pescheria is one of Italy's largest fish and flea markets. Situated just off Piazza Duomo, the market is a seething mass of just caught seafood and crustaceans, packed with market stalls piled high with glossy beady-eyed fish, wriggling octopus and silver sardines on mountains of crushed ice.  Beyond the fish market, alleyways are lined with fruit and vegetable stalls displaying whatever happens to be in season at the time.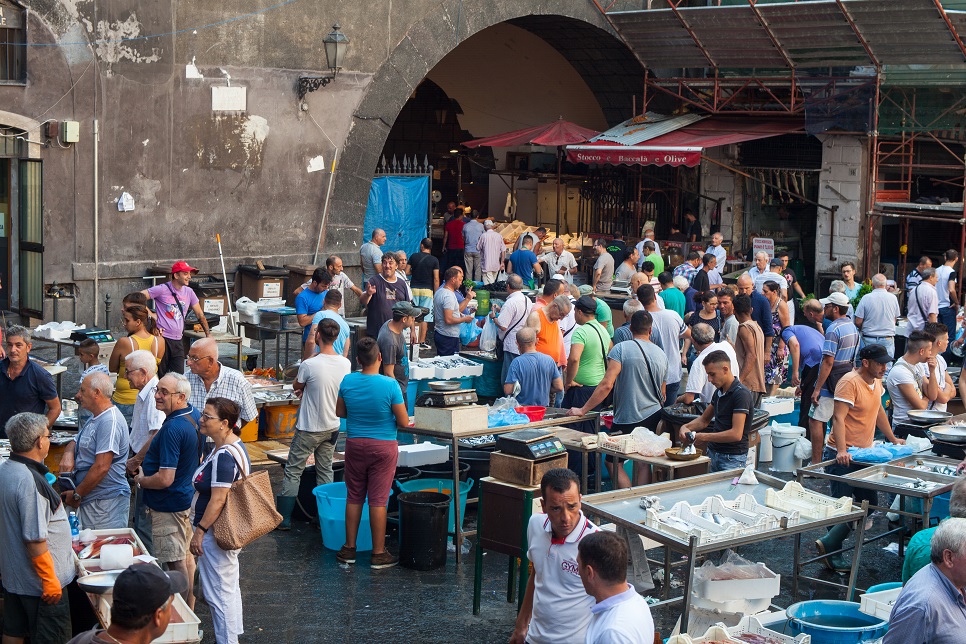 Syracuse Sicily food market
It would be easy to get distracted by the many historical attractions of Syracuse's historical centre of Ortigia and fail to find time for shopping but if you need provisions, or just enjoy browsing, head straight for the open-air market in Siracusa. Situated close to the water on Via De Benedictis, this is the place to stock up on fresh fruit, olives and fish. Stalls selling salty capers from the nearby island of Pantelleria, speciality sheep's milk ricotta and boxes of zucchini flowers are just some of the highlights but there are also spices and salami and pistachios straight from the small town of Bronte on the slopes of Mount Etna.
Find out more about participating in a street food tour in Palermo or Catania or view our collection of villas near Sicily's top street food markets.