We make sure that our villas and apartments come in all shapes, sizes and styles but it's not often we come across one as spectacular as Villa Taormina. To be honest, we're still struggling to decide whether the star attraction at this villa is its infinity pool, its inside-outside veranda or its jaw-dropping location!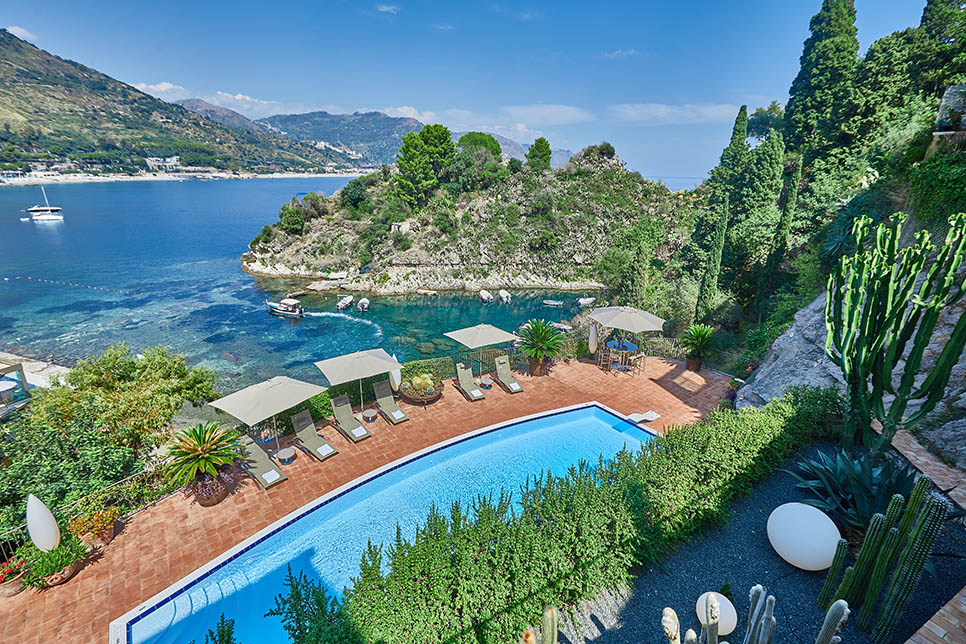 This is a villa where inside and outside merges into one and sea views seem to dominate every room, terrace, nook and cranny. Sumptuously furnished living and dining rooms are characterised by floor-to-ceiling windows that let in the light and lead out to sea-facing terraces and patios.  Bedrooms are designed to ensure that a panoramic view of the sea is the first thing you see when you wake.
Of course, there's only one way to start the day at Villa Taormina and that's with a leisurely cappuccino on the magnificent veranda while you soak up the amazing sea view and plan your day. We love the fact that you can wander through the garden straight down to the crystal-clear water of Taormina's Baia delle Sirene, a picture-postcard bay visited only by local fishing boats and, of course, guests at Villa Taormina. So there's no need to decide between the pool and the beach.  Both are on your doorstep which means you can spend the morning lapping up some rays by the magnificent 16m pool then saunter down to the sea for a quick dip in translucent waters.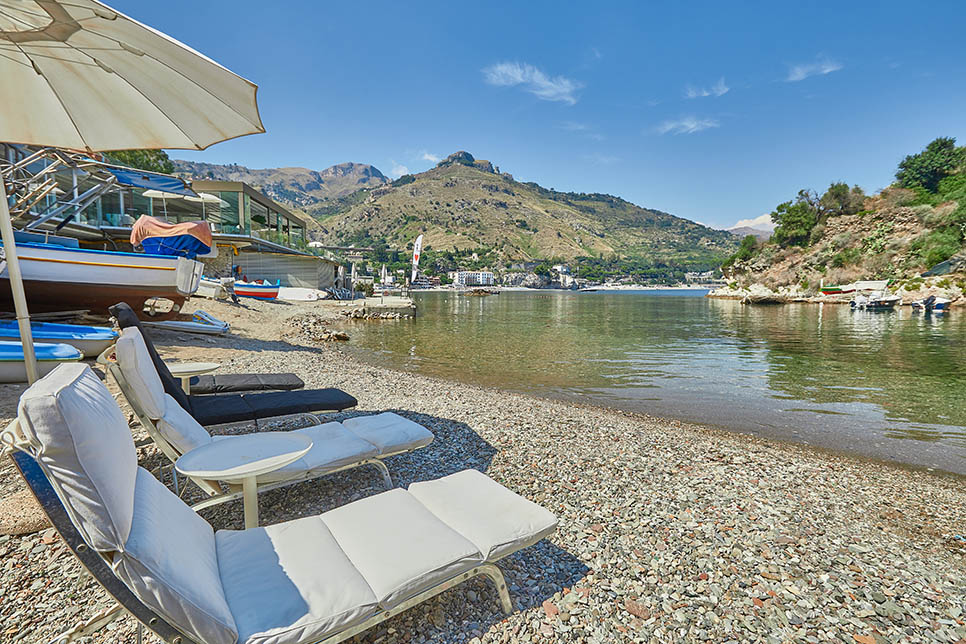 Before long, it's time to retreat to the uber-chic kitchen to whip up an easy lunch. If the sun's feeling a little fierce by now, pull the retractable roof over the dining area on the veranda and enjoy an alfresco lunch in the cool shade.  Then an espresso on the comfy sofas by the pool followed by a gentle snooze, before perhaps re-energising with a game of table tennis or a gentle workout in the mini-gym in the poolside loggia.
In the evening, treat yourselves to our in-villa cook service and dine on the veranda under the stars or in the rather opulent dining room. But with the cable car up to the centre of Taormina just 100m away, one of the joys of this villa is that you can stroll into Taormina without having to get in the car. One of Sicily's most popular summer spots, Taormina ticks every box, from iconic views and superb beaches to bars, boutiques and great restaurants. Meanwhile, if the long-distance view of Mount Etna has whetted your appetite, have a chat with us about an excursion to the volcano with a stop off or two at the outstanding wineries on its slopes.