Charming Sicilian coastal resort with a UNESCO world heritage cathedral
It's home to one of Sicily's UNESCO World Heritage sites, a glorious crescent-shaped beach and a harbour that's worth of any picture postcard, but what else makes this Sicilian seaside town so popular with Italians and tourists alike?
Most visitors would agree that Cefalù has a completely different atmosphere to the equally popular and undeniably glamorous town of Taormina on the east coast. It's loved by both Sicilians and visitors from mainland Italy and beyond, partly for being so charmingly unpretentious. In the oldest part of town, cobbled lanes wind down to its picturesque bay, fringed by souvenir shops, bars and restaurants interspersed with everyday shops, all adding to the feel of a town in which life continues outside the peak summer months.
Beach life in Cefalù
The main beach, a large crescent of powder soft sand, is a huge draw and unsurprisingly attracts big crowds between June and August. If, during these months, you want to sit in the unreserved public section, you need to get there early, but there's also the option of the lido section of the beach where you pay a fixed amount for a sun umbrella and two sun beds. Alternatively, if you prefer somewhere quieter, thinking about heading east along the coast to the beaches at Finale di Pollina, Torre Conca and the clear sea at Costa Turchina beach.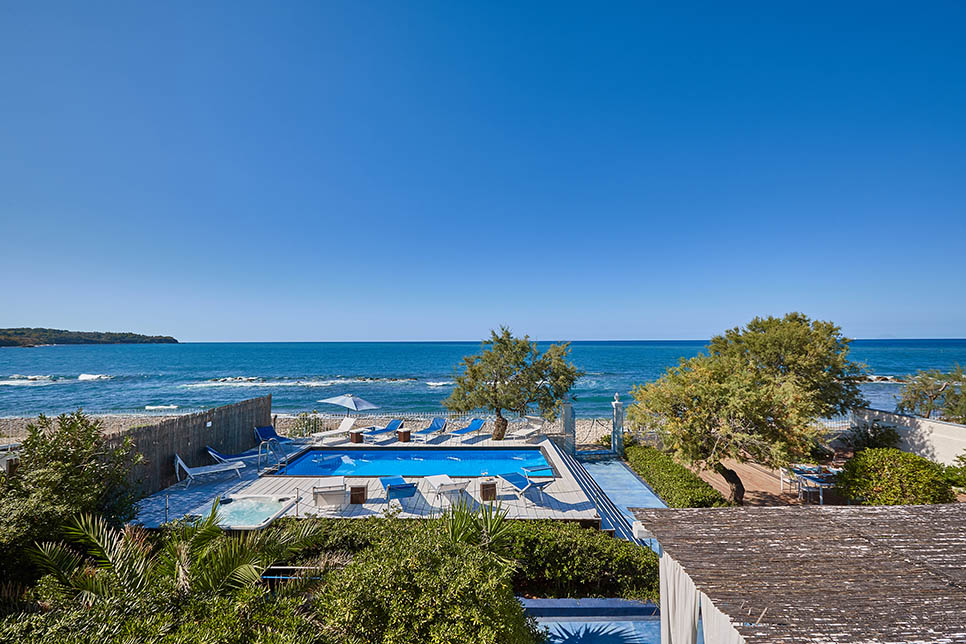 Restaurants and bars in Cefalù
There's only one way to start and end your day here and that's with a morning cappuccino and cornetto in the morning, and a sunset aperol spritz. When it comes to dinner, you won't be surprised to hear that seafood features on every menu, with highlights including pasta with sardines and fennel, swordfish rolls and grilled fish. Dine on the harbourfront with a sea view guaranteed to enhance the gastronomic experience, then wander through town with a gelato.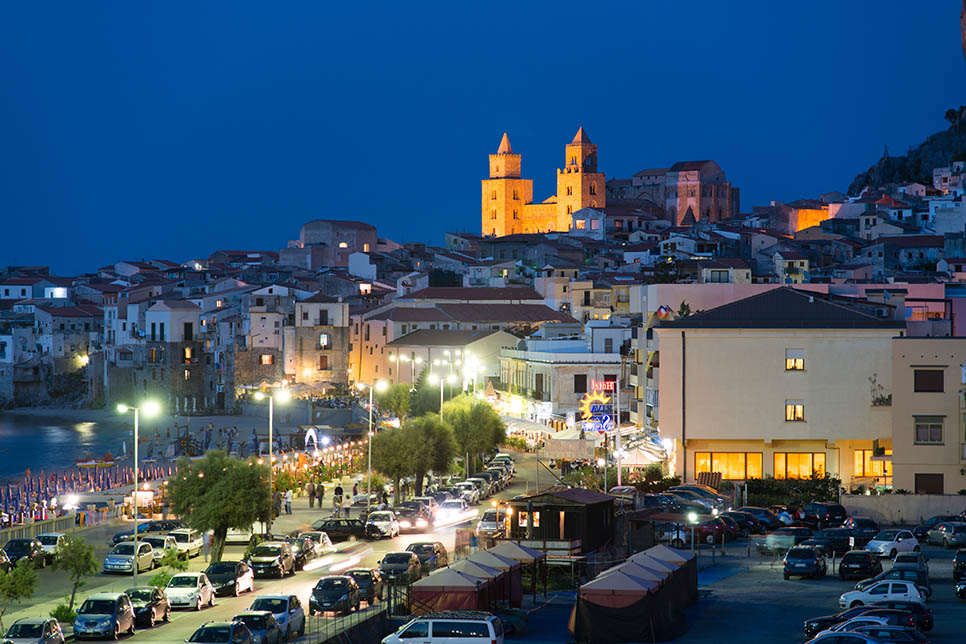 Best views and snapshots
To be honest, you'll be fairly spoilt for choice when it comes to photogenic views, from the nooks and crannies in the town's narrow cobbled streets to its pretty harbour. We love the view from the old harbour – wander through the ancient gothic Porta Pescara arch to the small harbour beach and you'll get fabulous views across the pastel-coloured buildings.
For dramatic aerial views, hike up the craggy route to La Rocca, once the site of a Norman castle, to look down on the colourful rooftops and glistening sea. It's a 284m climb, so fairly strenuous, and particularly in the hottest months, but well worth the effort!
En route for the top, you'll pass the ruins of the Temple of Diana, a Roman temple built around the 4th century BC.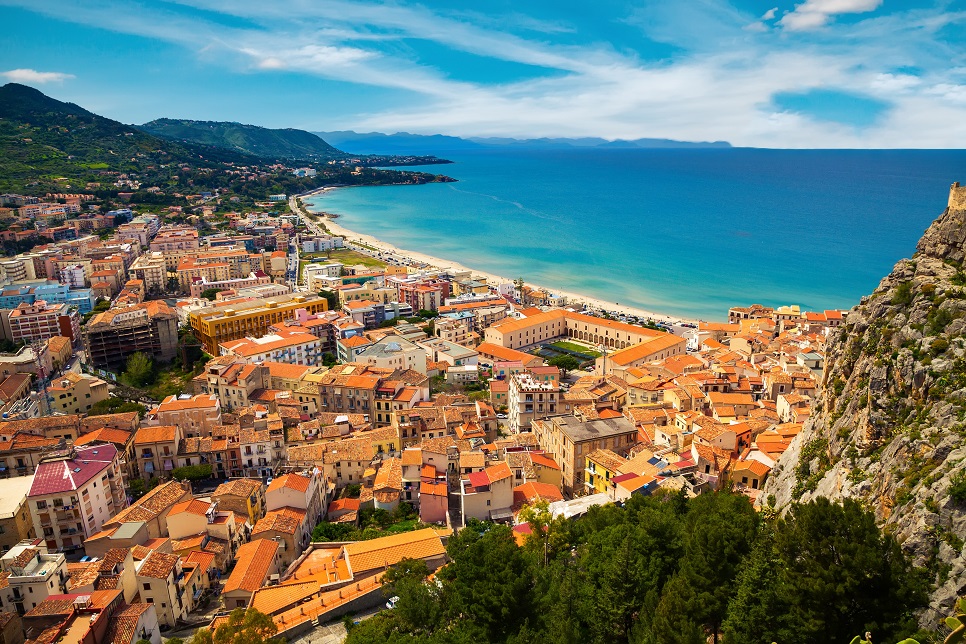 Other historical sights
The town's biggest hitter, however, is its twin-towered Norman Duomo where interiors feature 12th century Byzantine mosaics. The cathedral was granted UNESCO World Heritage Site status in 2015 alongside 8 other Arab-Norman monuments, including the cathedral at Monreale.
Other highlights include the natural spring-fed medieval wash house on Via Vittorio Emanuele, and the Osterio Magno, the remaining part of a 13th century palace and now home to art exhibitions.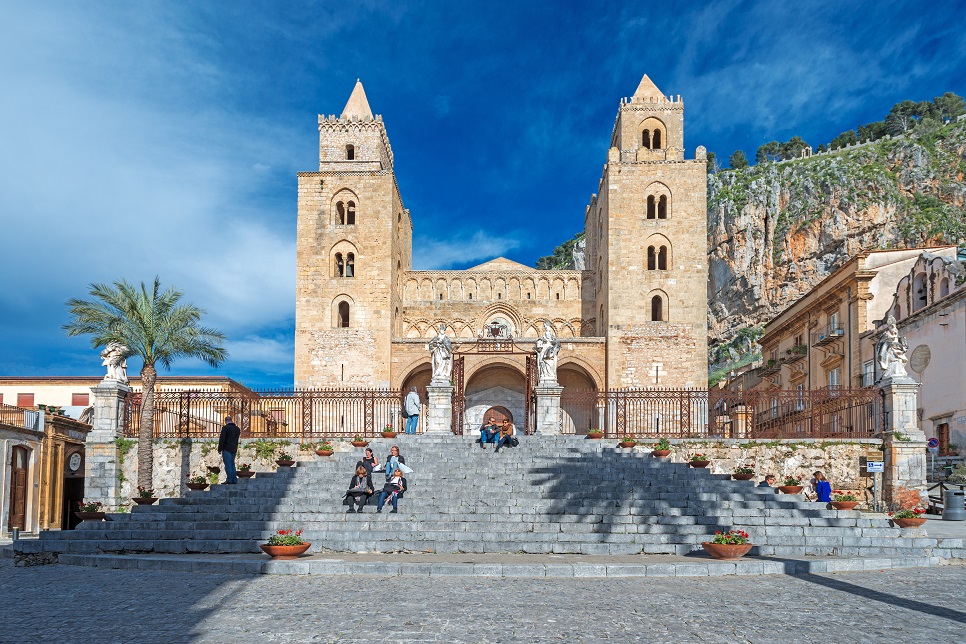 The best day trips from Cefalù
If you're interested in visiting the other UNESCO sites in the Arab-Norman Palermo and the Cathedral Churches of Cefalù and Monreale, you can make your day considerably more relaxing by booking a private guided tour. Alternatively, ask us about wine-tasting experiences and boat and sailing trips. If you're holidaying with the family, take advantage of our new collection of mountain bike and jeep tours departing from Cefalù.
Head into the hills
Want to experience Sicily away from the coast? Less than an hour's drive from Cefalù, the mountain villages and peaks of the Madonie National Park couldn't be more different from the coastal resort. Head for the larger town of Castelbuono but don't miss the sleepier town of Petralia Soprana, or Polizzi Generosa which has an astonishing collection of 33 ancient churches.
Find out more about our villa collection in and around Cefalù.