If you thought you had to wait till summer for a villa holiday in Sicily, think again. Carnival celebrations mean party time right across the island and although traditions vary slightly from one town to another, you'll find a party-going atmosphere wherever you go. Unsurprisingly (this is Sicily!), traditional food has a leading role with some serious eating taking place before Lent fasting. Think macaroni, cavateddi (pasta) with meat sauce and pork rind, and chiacchere, strips of sweet pastry dough fried and sprinkled with sugar. These are some of the top carnivals in February, so snap up a holiday home or luxury villa in Sicily for a week and enjoy the festivities.
Acireale Carnival
Dating back to the 1880's when rotten eggs and citrus fruits were thrown, Acireale has become one of the most exciting carnivals in Sicily.  Nobles flinging candy and confetti from elegant horse-led carriages were replaced in the 1930's by allegorical floats and papier-mâché masks. Today, marching bands, street performers, jugglers and acrobatic troupes accompany the procession of allegorical floats festooned with sweet-smelling floral sculptures and heralding the central figures of the Carnival Queen and Re Burlone (the Jester King).  Processions are accompanied by music made with everyday kitchen utensils.
Sciacca Carnival
One of the most popular carnivals in Sicily, Sciacca Carnival's huge Mardi Gras parade sees the keys of the city symbolically handed over to Peppe 'Nappa, the King of the Carnival, each day until Shrove Tuesday when he goes up in smoke at the end of the festivities.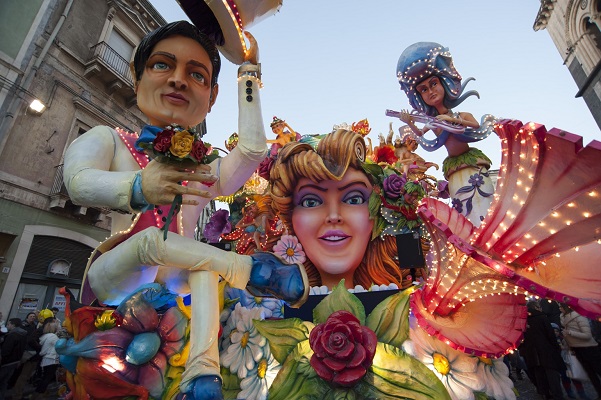 Termini Imerese Carnival
Another of the more significant carnivals in Sicily, the procession of floats at Termini Imerese satirizes personalities from the worlds of politics and entertainment. Here, the lead characters are nannu – who represents the Carnival and is ultimately set fire to on Shrove Tuesday – and nanna, a tall, thin figure, symbolising the pain and penitence of Lent.
Palazzolo Acreide Carnival
Relatively unknown outside of Sicily, the small town of Palazzolo Acreide is perhaps best known for its carnival. Until the end of the sixties, great masked balls were held in the town; today, as elsewhere, allegorical floats take centre stage although there is still some dancing in the main piazza and plenty of opportunity to enjoy local gastronomy, including grilled sausages and the local cavati pasta dish, with pork.
Novara di Sicilia Carnival
At Novara di Sicilia in north east Sicily, the Race of the Maiorchino – a cheese-rolling competition using a local cheese made with whole sheep's milk – takes place alongside traditional celebrations.
Other Sicilian towns and villages
Soak up the atmosphere at traditional parades and allegorical floats, each with their own individual twists, in many of other towns and villages across the island. At Saponara, the 'Corteo dell'Orso e della Corte Principesca' procession commemorates the legendary threat to the town's citizens by a ferocious bear who was subsequently captured and led, caged, through the streets of the town by the victorious prince.  In Avola, in south east Sicily, the allegorical carnival floats are exquisitely adorned with flowers while at Misterbianco, near Catania, a parade of more than seven hundred masked people takes place on Easter Sunday and on Shrove Tuesday. There are also celebrations in Palermo, at Corleone and at pistachio-producing Bronte on the slopes of Mount Etna.