Alternative summer escapes in Sicily
Mention a holiday in Sicily and up pops an image of Taormina in many of our minds. Just a hop from Catania airport, the town has been a tourist destination since the 18th century and a firm celebrity favourite since the 1970's. Add to that its impressive clifftop location, glamorous Gucci and Prada window displays, and pretty squares and alleyways, and it's not hard to see why it continues to be a winner.
But if you've ever been to Sicily, you'll know how much more there is to the island. Travel beyond the best-known towns and cities, perhaps using a smaller town or village as your base, to gain a real insight into this multi-layered and deeply fascinating island.
Acireale – myths, great architecture and a colourful carnival
Less than an hour's drive from Taormina, at the foot of Mount Etna, is the largely tourist-free but legend-rich town of Acireale.  Named after the Acis River, the town remains steeped in myths and Greek legends associated with Akis, the mortal who fell in love with the sea goddess Galatea.
It's also home to one of Sicily's most spectacular carnivals. Visit in February and you'll witness a dazzling display of floats and colourful processions while at other times, you'll be able to wander leisurely through its baroque centre and mingle with locals in the lively Piazza del Duomo. Take time exploring the town's Duomo and other architectural highlights such as the art-filled Basilica of San Sebastiano and the baroque church of San Pietro e Paolo.
For a genuine behind-the-scenes glimpse of life in Sicily, stay at Terrazza sul Mare, a 2-bedroom apartment which overlooks the tiny fishing port of Pozzillo on the outskirts of Acireale.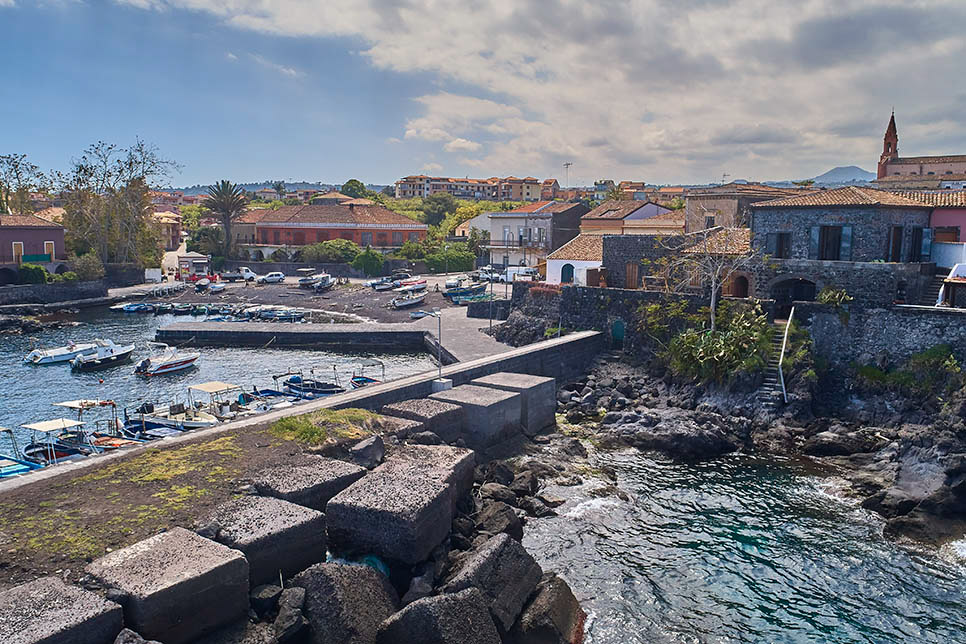 Catania – extravagant palazzi and Sicily's biggest fish market
Immerse yourself in a world of lively banter and flapping fish at Catania's animated and hugely atmospheric fish market (La Pescheria). From here, wander through the 18th century Porta Uzeda arch to the main Piazza Duomo and through the UNESCO-listed historic centre where striking black and white palazzi loom large over spacious baroque piazzas.
Looking for a peaceful retreat? Enjoy a villa holiday in the tranquil setting of Casa dei Sogni, a luxurious contemporary villa just 30 minutes' drive from Catania.
Baroque splendour in Scicli
The south easterly towns of Ragusa Ibla, Modica and Noto, three of the jewels in the crown of Sicily's treasured baroque cities, not surprisingly draw a fair share of visiting tourists. Nearby Scicli is still very much on the tourist radar, not least for its connections to the fictional Inspector Montalbano, but certainly attracts fewer crowds than its neighbours. Located in a basin surrounded by steep ridges dotted with clusters of cave-dwellings, Scicli's attractions include the striking baroque Palazzo Beneventano and the churches of Santa Maria la Nova and San Bartolomeo. Sit in a café on Via Penna and watch everyday Sicilian life float past.
Rocca di Pietra is as close to the beach as it is to Scicli, Ragusa and Modica. The villa (sleeps 12) has an infinity pool and tiered terraces with serene views across olive groves and green fields towards the sea.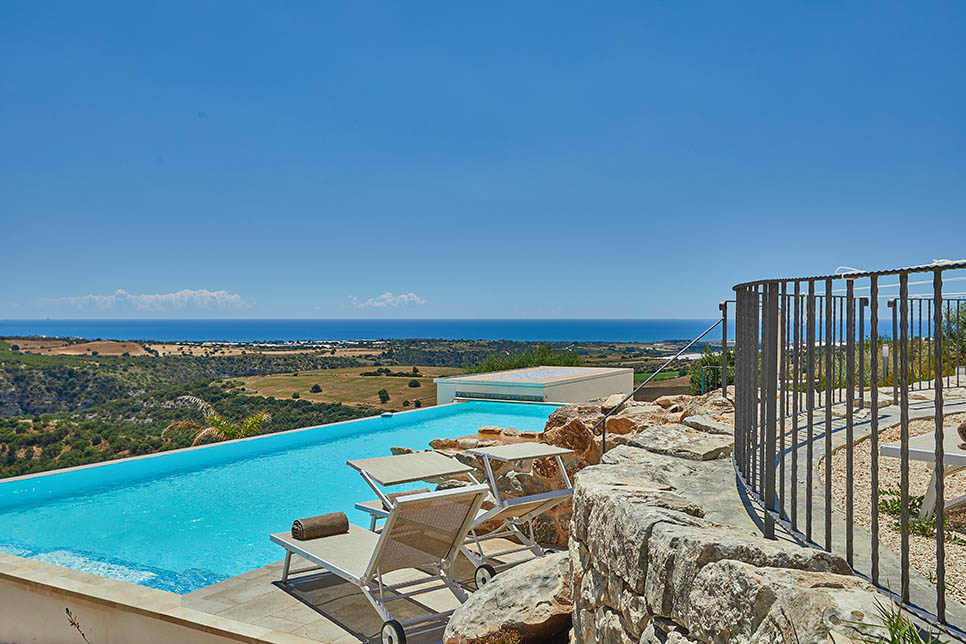 Trapani's historic town centre
How much do you know about Trapani? Situated on Sicily's west coast, a backlog of Arabic influences bestow on the town a markedly different atmosphere to other Sicilian towns and cities. Landmarks such as the Torre della Colombaia and the 14th century San Lorenzo cathedral are well worth a visit and Trapani is also the setting off point for the ferries that nip over to the Egadi Islands. But if you really want to get a feel for Sicilian life, join the locals on the evening passeggiata, past ancient churches and gold-stoned palazzi in the mainly pedestrianised old town.
Budget-friendly Case Fil is a convenient base for exploring Trapani, Marsala and other towns and attractions in west Sicily.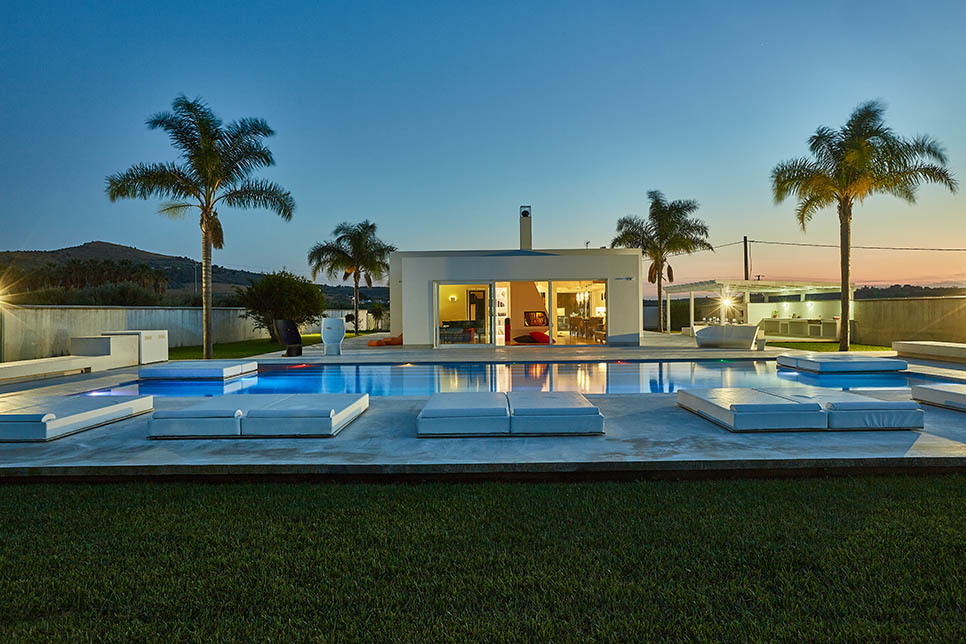 Villages of the Nebrodi and Madonie mountains
Head inland up to the hilltop towns and villages that cap Sicily's mountain ranges for an alternative glimpse of Sicily.  The mountain-hugging villages of Petralia Sottana and Gangi are worlds away from the beach resorts of Cefalù and Taormina. Here, steep staircases connect labyrinthine cobblestone streets lined with stone-walled houses and blessed with extraordinary panoramas over red-tiled rooves and sweeping hills.
If you like the idea of exploring inland Sicily but prefer a coastal stay, a happy compromise is Sicily's northern coastline. Beachfront Casa Turchina is a short drive from the Nebrodi and Madonie mountains and just 15 minutes' from the seaside resort of Cefalù.