Sensational Sicilian villas for smaller groups
It's easy to get swept up by the idea of planning a grand scale villa holiday for a large group. After a year of minimal socialising and even more limited hugging, reconnecting with friends or family seems irresistible. Plus those tantalising images of sprawling country estates, infinity pools and mini-gyms, together with poolside yoga and in-chef dining add-ons, are enough to send us into meltdown.
Planning those big group holidays, however, can be complex and 2021 may just be the year to keep things simple. The good news though is that if you're looking for a small villa that packs a punch, there are plenty to choose from. We've picked out five of our favourite villas in Sicily for smaller groups that are guaranteed to thrill.
Holiday with another couple
La Nave offers two couples the rare chance to enjoy hotel-style luxury in an independent villa. Inside, there are contemporary design features and modern art while outside, you can splurge on views of the iconic Sanctuary of Tindari from the poolside terrace. Spend your days pottering by boat round the volcanic Aeolian Islands or relaxing on some of Sicily's loveliest beaches.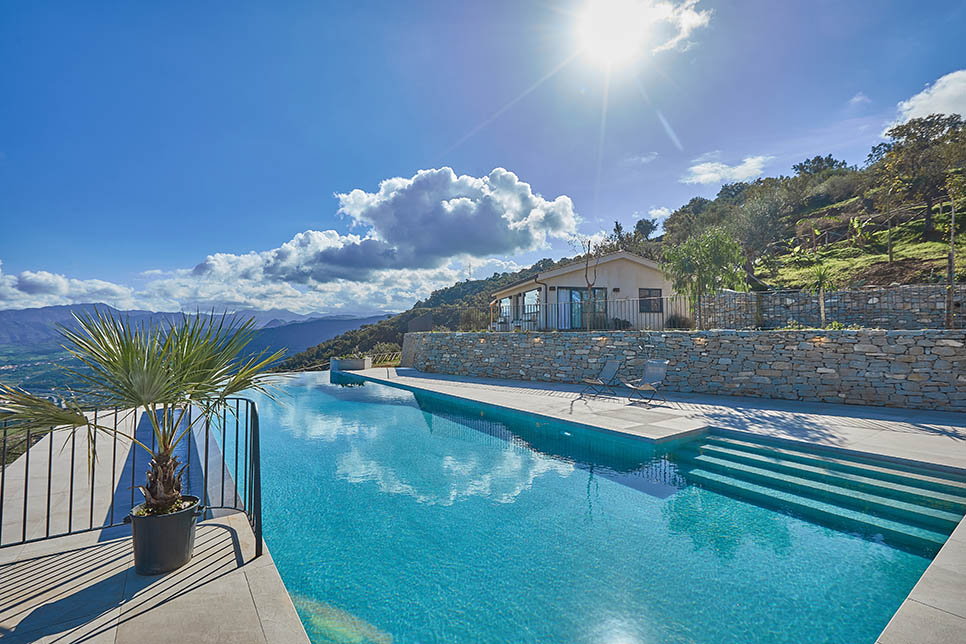 Seafront family villa with pool
Ask the kids about the best bits of past family holidays and the chances are they'll mention the beach and the pool. Which is where, from your children's perspective, Infinito triumphs. In addition to the pool, the 3-bedroom villa has lawns to play games on, table-tennis and is conveniently close to the beaches around Capo d'Orlando.
What's good for them will probably be good for you too, but the icing on the cake is the owner's collection of vintage nautical-themed artworks, a super-stylish kitchen and a master suite with vast picture windows and panoramic terrace.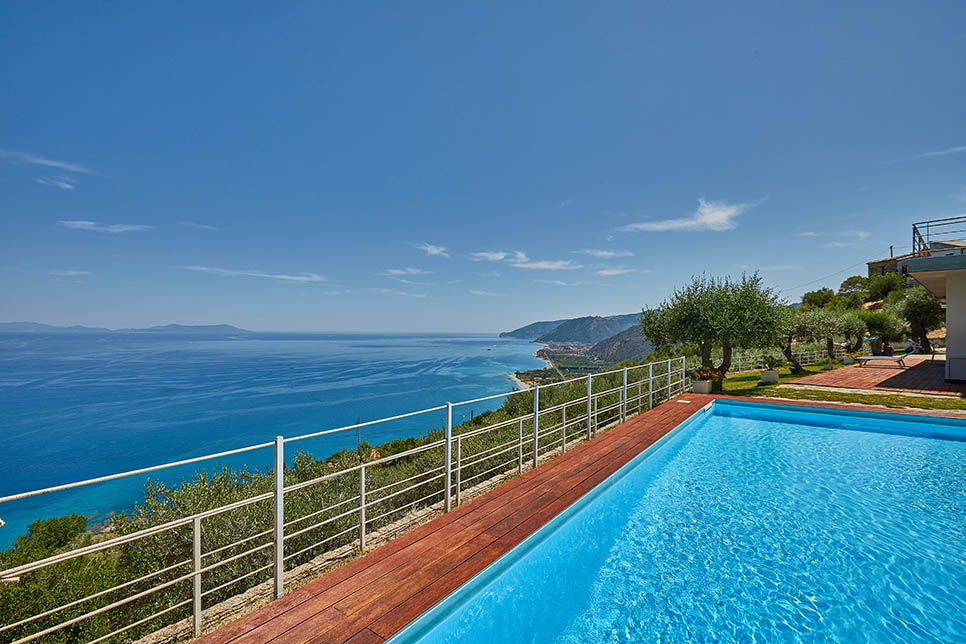 Seaside city break
If you're hankering after a city break, it's hard to beat Syracuse.  Steeped in history, buzzing with atmosphere and, on top of all that, blessed with nearby beaches and swimming spots. So naturally, you'll want to make sure that your accommodation is equally captivating. Check out Casa a Ortigia, a 2-bedroom modern villa that's filled with natural light and sea breezes. Head up to the sea-facing roof terrace for your morning cappuccino, then stroll up to the Piazza del Duomo, at the very heart of the island of Ortigia, to start exploring.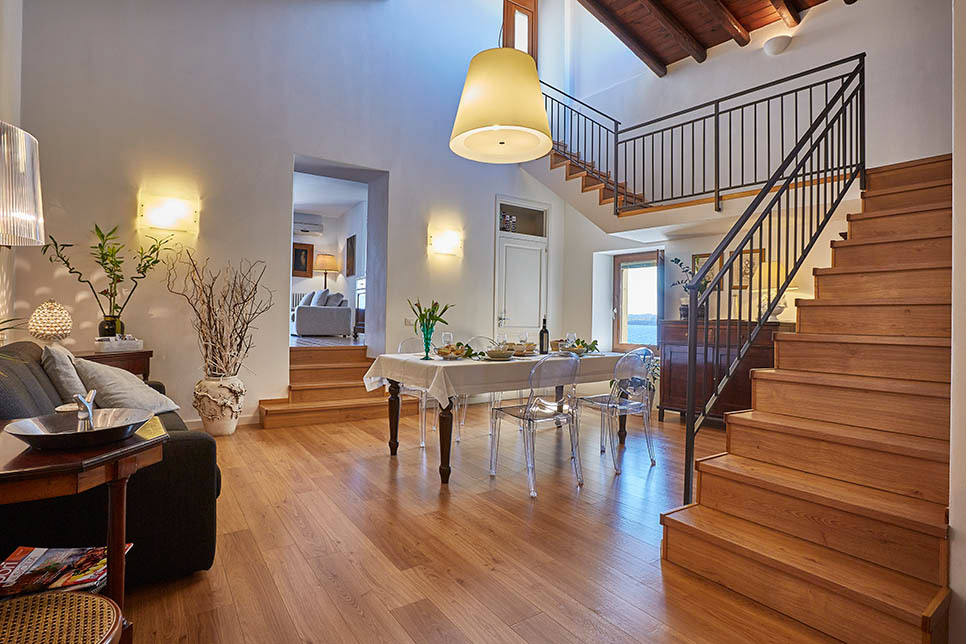 Al fresco lifestyle
After almost a year of shuffling in and out of lockdown, many of us just want to be outside more than anything else. Which is why when a villa like Casa del Gelso appears, you know you're on to a good thing. Whether you're holidaying with friends or family, you're unlikely to spend much time indoors when outside, there are more seating areas than there are days in the week. Intersecting an emerald green lawn, the garden path snakes past olive and fig trees, spiky succulents and a shady furnished patio down to a stunning pool. Looking out over all this splendour is a large dining terrace, set alongside an impressive outdoor kitchen with barbecue, sink, hob and everything you could possibly need to whip up a mouth-watering Sicilian feast.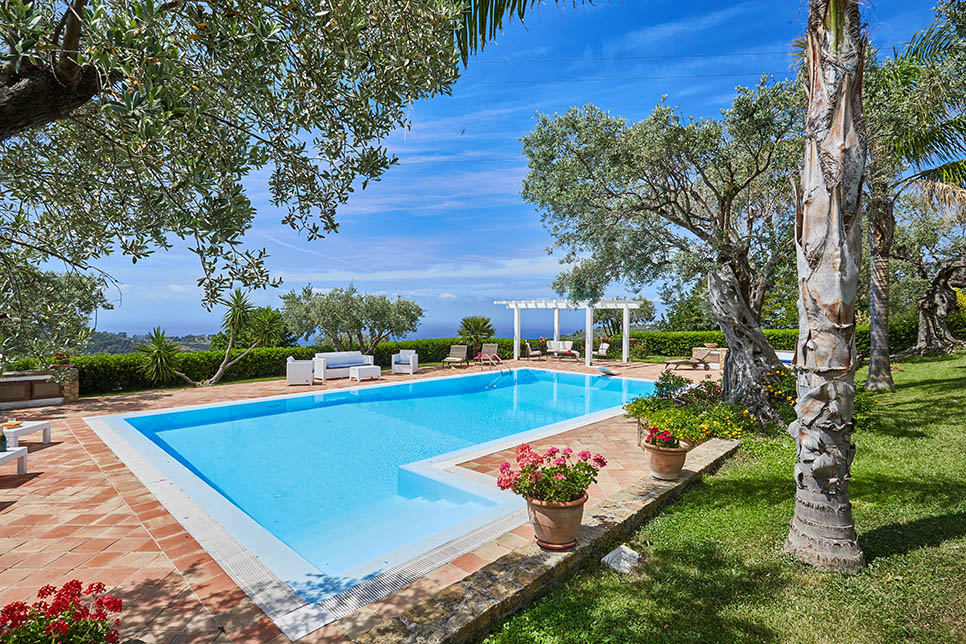 Farmhouse with pool and jacuzzi
If you thought that you need to book a large villa to get a sizeable pool and jacuzzi, think again. Casa del Carrubo has been converted from its former life as a farmhouse into a 2-bedroom holiday home that is ideal for couples or young families. While interiors are fairly compact, the garden is a whole different ballgame, complete with jacuzzi, hammock-strewn lawns and a sparkling pool.
Want to see more ideas? Visit our complete collection of small villas in Sicily.