One of the highlights of a holiday in Sicily is taking to the seas and exploring some of the smaller offshore islands, either on a private charter excursion or as part of an organised tour. Several of the islands, such as Lampedusa and Pantelleria, are too far to visit on a day trip but the Aeolian Archipelagos and Aegadian islands are well within reach. These are a few of our guests' favourite offshore excursions.
Day trips Sicily from Aeolian islands
The dramatic scenery and spectacularly clear waters around the Sicily Aeolian Island make them a popular choice with hikers and divers. A UNESCO World Heritage site since 2000, the seven volcanic islands feature everything from black sand beaches and hot mud baths to gorgeous food and wine and pocket-sized villages untouched by tourism. Vulcano and Lipari, are the southernmost of the islands although there are regular ferry and hydrofoil services from Milazzo to all the islands. If you are holidaying with friends or in a bigger group, you can charter a private boat to Vulcano, Lipari or Salina and enjoy swimming in hideaway bays accessible only by boat.
Aegadian Islands travel
Over on the west of the island, the three Aegadian Sicily islands of Favignana, Levanzo and Marettimo can be reached via hydrofoil or ferry from Trapani or Marsala and if you organise your ferry timings carefully, you can visit two islands in one day. For a more bespoke experience, a mini-cruise or a private boat trip to Favignana and Levanzo leaves you time for refreshing dips in the clear waters of Favignana's Cala Rossa and Cala Azzurra, and some snorkelling around Levanzo.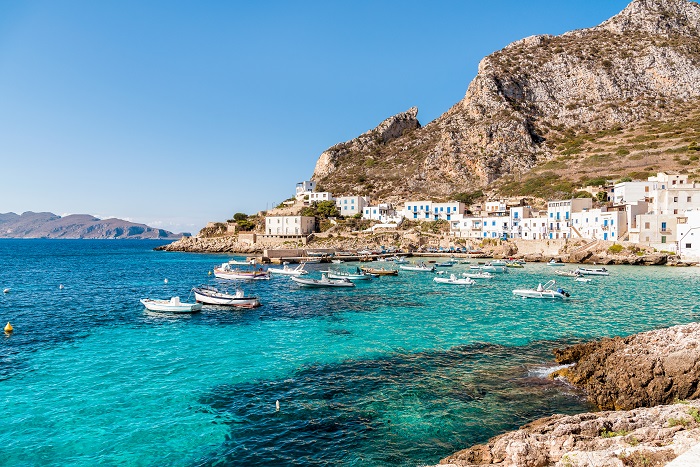 Isola delle Femmine
If you are staying in Palermo, a boat trip to the Isola delle Femmine makes a refreshing break from the hectic pace of the city. Sail from Palermo past Mondello beach with its Liberty style architecture, past the Capo Gallo Nature reserve and the rocky Gulf of Sferracavallo and towards the tiny island of Isola delle Femmine in time to enjoy a spectacular sunset.
Mothia sicily island
The small island of Mozia (also known as Mothya) lies at the heart of the Stagnone Nature Reserve lagoon on the west coast of the island. Getting there is easy – boats travel across from the Mozia pier, between Marsala and Trapani, at regular intervals. The island's archaeological remains – ancient villas, mosaics and parts of the defensive walls – are fascinating and the museum in the Villa Whitaker, home to the Marsala wine-making family who owned the island, is well worth a visit. Pack a picnic before you go so that once you have exhausted the island's ruins, you can explore the woodland and picnic on the lagoon shore.