When it comes to holiday plans, making sure that you are booking at the best possible time is never easy.  AOL Travel includes advice from Wish Sicily founder, Gioacchino Sortino, in a recent article on early bird bookings, but for a more in-depth look at booking a villa holiday in Sicily, here are a few tips.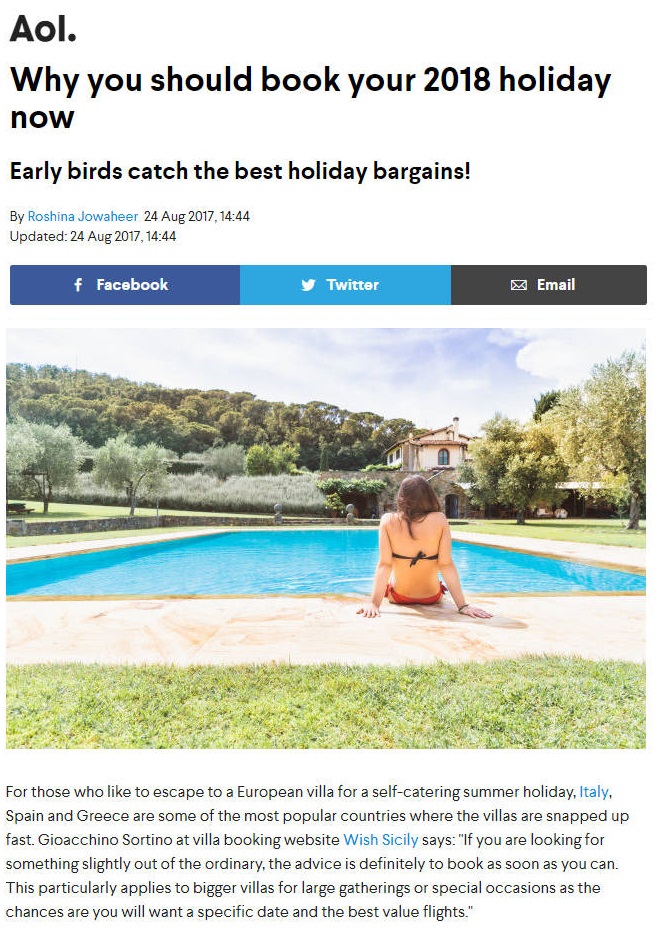 The first step is understanding exactly how airlines organise their pricing. Is it best to book flights as soon as they are released or is it worth waiting to see if prices will come down? The same goes for accommodation. It is never easy to ignore headlines pronouncing slashed prices and extra nights free but the best advice is to take a close look at the holiday and destination that are being promoted to check that they will be suitable.
In both cases, it is essentially a question of supply and demand. If you are planning to fly on a popular route at the weekend or in school holidays, the closer you get to that date, the more you will pay. The same goes for location. Looking for a holiday in the Med in July or August? Yes, the chances are you will find something. Looking for a sought-after villa with a pool, close to a beach and an atmospheric fishing village? Book now.
The bottom line is that if you are happy to be completely flexible about where and when you want to travel, then the chances are that you will find some sort of discounted holiday. If, on the other hand, you are restricted by school holidays or have a fixed two-week window that works for you and your partner, then it is risky to wait.
For anyone planning a special celebration or a villa holiday for a large group, there is no question that you should book as early as possible. Organising a holiday for big groups is never simple – think timing, departure airports, villa requirements for starters – so inevitably a longer lead-in will mean more choice and a much better chance of finding something that will work for everyone.
While the situation is less critical if you are organising a holiday for a smaller party in May, June or September, there are invariably some destinations and properties that get booked up quickly.  If you are planning a last-minute holiday this September, you may want to check our villas on promotion to see what is still available.