Sicily's Tastiest Foodie Retreats selected by Suitcase magazine
The gastronomic scene in Sicily is continuing to expand, becoming ever more adventurous whilst still remaining true to its traditional roots. And the good news is that you don't need to head for a Michelin-starred restaurant to experience it – you'll find fantastic ingredients on market stalls and simple but delicious dishes at the local trattoria.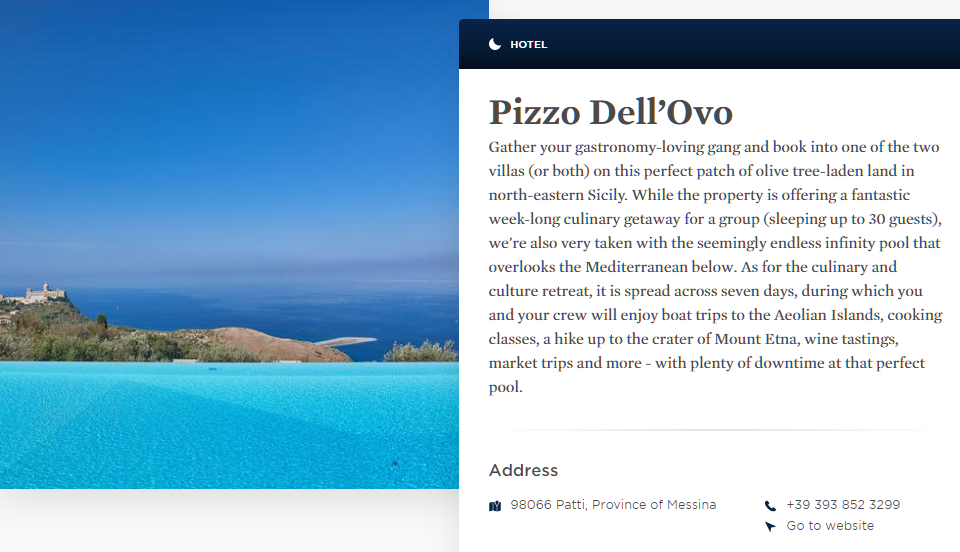 But what if you want to dig deeper into Sicilian gastronomic culture, to find out what to buy at the market and learn how to prepare some of the dishes for yourself? Cue Cooking & Culture, a week-long retreat which we were delighted to see featured in the recent 9 of the best foodie retreats in Sicily article in Suitcase magazine. Always packed with new ideas and inspiration, Suitcase has pulled together some of Sicily's top gastronomic getaways, from the coastal resorts of Tindari and Taormina to the offshore island of Pantelleria.Pizzo dell'Ovo Estate, Tindari, Sicily
Designed as a culinary group holiday, the week-long stay includes everything from cooking classes using freshly picked home-grown vegetables, wine tastings and market trips, to a visit to an independent producer of organic sweet treats made with locally-grown almonds, hazelnuts and pistachios. For those who prefer to spend time exploring, there are visit to Mount Etna, the Aeolian Islands and the ancient Graeco-Roman sights at Tindari.
Accommodation is split between two luxurious properties, each with their own infinity pool, on the luxurious Pizzo dell'Ovo estate, for groups of up to 30.