Fill in some of the gaps in your kids' education with a visit to Sicily where you can squeeze in a session on the Greeks, Romans and Normans, or a volcano-themed geography lesson, without so much as a mention of books or homework. Sicily's extraordinary past and its hugely varied land and seascapes make it a fascinating island for all ages.
If you have not booked anything yet, there are weeks available right up to early September at a selection of Wish Sicily villas.
Escape the crowds and head for the heartland of Sicily
Head inland for peace and quiet, rural landscapes and some of Sicily's most extraordinary history. Top spots include the magnificent Roman mosaics at Piazza Armerina, the legendary Lake Pergusa and the UNESCO world heritage town of Caltagirone.
Villa del Noce is a large group villa with a huge pool, close to Caltagirone and the Villa Romana del Casale at Piazza Armerina. With masses of space and surrounded by the woods, the villa still has some space during the summer and is also perfect for an October half-term break with friends!
Further west, Villa Misita, which has a 25m pool, is close to the village of Corleone and the archaeological sites of Selinunte and Eraclea Minoa.
Festival fever in central Sicily
July celebrations include one of our favourite festivals, La Scala Illuminata in Caltagirone (24-25 July and 14-15 August) when the 142 steps of the Santa Maria del Monte church are carpeted with the twinkling lights of hundreds of candles, artfully placed to create a picture.
For something a little more fast-moving, the action-packed Palio dei Normanni (12-15 August), in Piazza Armerina, relates the triumph of the Norman invaders over the Arabs in around 1060.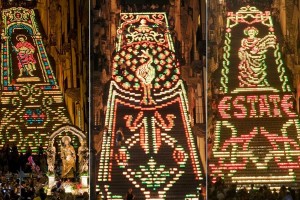 Summer special offers
There is still availability at a selection of villas with pools through July and August, and some with savings. Villa Giardino degli Ulivi is a gorgeous villa with pool near Mondello Beach while Casetta Arco is one of several cottages for two, with a shared pool, with good availability in August.
Hot off the press …. A beachfront position close to glamorous Taormina and a history that includes Greta Garbo are just two of the high spots of the latest addition to our portfolio. If you are planning a special celebration, be sure to look at Villa La Belsia!