The best things to see and do in Catania
Catania may technically be Sicily's second largest city but its lashings of Baroque style, dark lava stone buildings and elaborate architecture elevate it to one of Sicily's must-see destinations. Undeniably lively and perhaps slightly chaotic, the city today blends history and art with contemporary living, showcasing extravagant palazzi and churches, authentic markets and designer boutiques.
In the 17th century, the city was devastated by a volcanic eruption and, less than 30 years later, a major earthquake, resulting in much of the city being rebuilt into one of black and white palazzi and sweeping baroque piazzas, under the guidance of Giovanni Vaccarini and Steffano Ittar. Their vision is the reason that today, the city sits alongside seven other towns in UNESCO's Late Baroque Towns of the Val di Noto collection.
Rather than staying in the centre of town, choose a Sicilian villa or apartment on the fringes of the city, in nearby Acireale or on the slopes of Mount Etna. Then head into Catania to discover its amazing cultural offerings.
Catania's historic centre
Start exploring in the city's relatively small historic centre where Greek-Roman ruins and remnants of Byzantine, Arab and Norman architecture still remain.  Wander through the network of narrow passageways, hidden alleyways and cobbled streets and along passageways with authentic eateries.
The showstopper is the Piazza del Duomo, home to the spectacular Cattedrale di Sant'Agata and the black lava carved Fontana dell'Elefante, an iconic symbol of strength said to stand guard over the city. For more baroque beauty, head to the Arco di San Benedetto and on to the Via Crociferi, pause at the fresco-filled church of San Benedetto and continue past San Francesco Borgia and the curved façade of San Giuliano, finishing up at the baroque Villa Cerami, now the university's law faculty.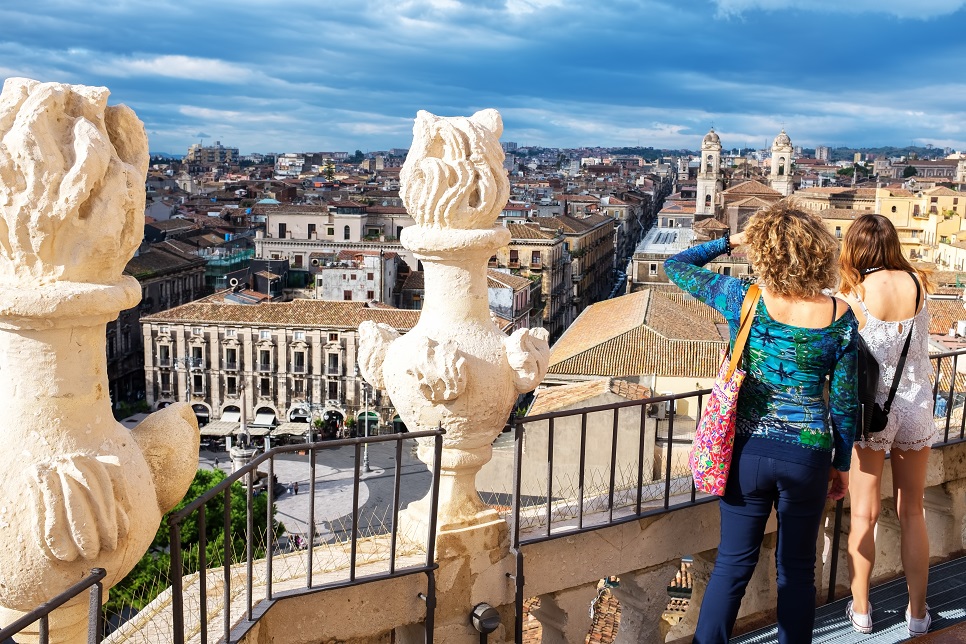 Castles in Catania
Check out the very austere looking Castello Ursino, built by Frederick II on the sea-front. The castle has survived Etna eruptions, an earthquake and a short period as a prison and is currently a museum and venue for art exhibitions.
Going for a song
Catania's opera house, the Teatro Massimo Bellini was dedicated to Bellini whose magnificent masterpiece, 'Norma', inaugurated the theatre in 1890. Even if opera's not your thing, consider taking a guided tour for a glimpse of its luxuriant red velvet seating and ornate Baroque design.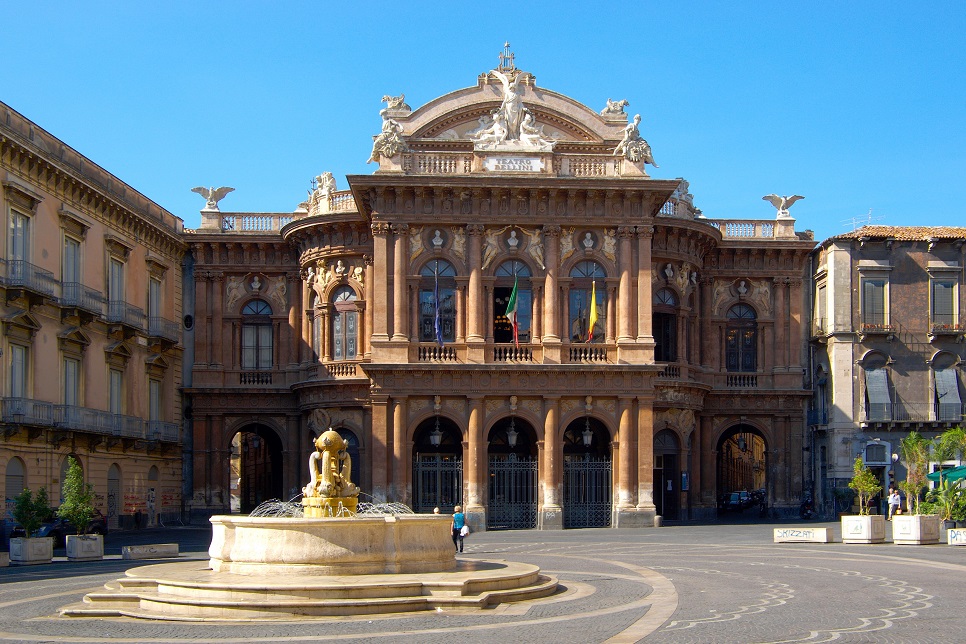 Markets in Catania
La Pescheria is one of Italy's biggest fish markets, a raucous but vibrant scene of bellowing stallholders competing to unload their mini-mountains of gleaming fish, slabs of swordfish and buckets of clams and mussels. You'll also find stalls selling fruit, vegetables and local cheeses but actually, the street theatre is the big attraction here.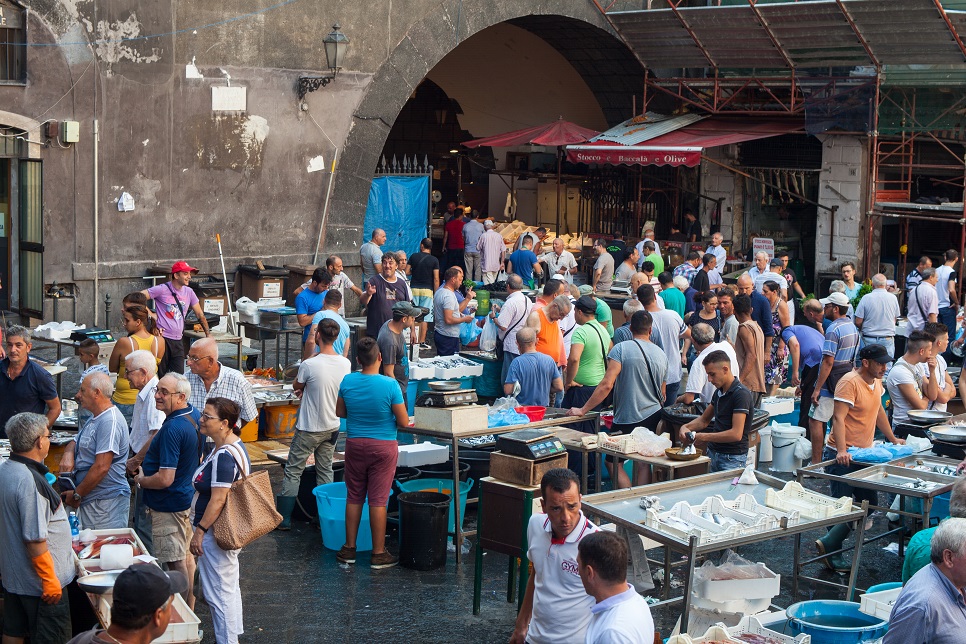 Catania's food scene
You won't be surprised to hear that Catania has its own foodie specialities. 'Pasta alla Norma' is its best-known dish, comprising pasta – usually rigatoni – with fried chunks of aubergine, tomato sauce and salty ricotta. A street food tour will introduce you to some great culinary highlights, including iconic arancini (rice balls), and 'cipollata' (spring onions wrapped in bacon and grilled), finishing off with cannoli or a gelato.

What about beaches?
While 18km long La Playa beach is popular, the coast near the seaside town of Aci Trezza – the Riviera dei Ciclopi – is the place to go for full immersion in Sicilian culture. At Aci Trezza, you'll find a pastel-hued port and several 'lidi' on pier-like structures where you can soak up the sun and descend steps suspended from the rocks into transparent water.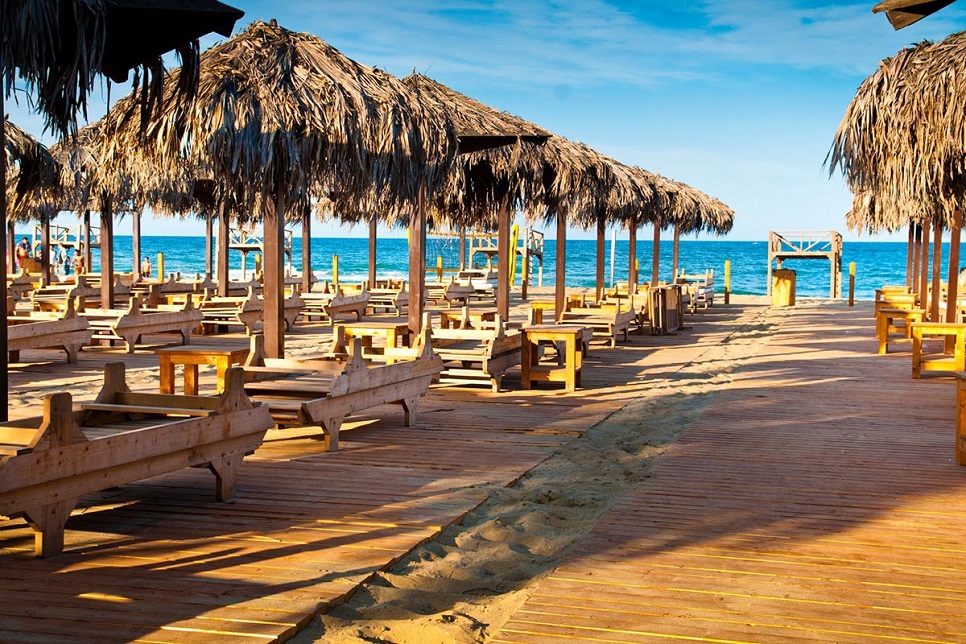 Mount Etna
With Europe's largest active volcano looming on the horizon, it's impossible to ignore its shadow over Catania. Get the best views from Via Etnea, Catania's main street for luxury shopping, leading from Piazza del Duomo. If you're interested in getting closer still, chose from multiple visitor options, including jeep or bike tours.
Where to stay in Catania
Choose from a wide range of villas and apartments in and around Catania, with space from 4-14. Apartments such as Terrazza sul Mare are perfectly placed for an authentic Sicilian experience while you explore the stretch of coastline between Syracuse and Taormina.