If you are looking for the best beaches in Sicily and you love water's activity, the Pelagie Islands is your perfect holiday destination. These three tiny islands, Lampedusa, Linosa, and Lampione, are located south of Sicily between Malta and Tunisia. Even though these islands are politically part of Sicily, the territory where Lampedusa and Lampione lie belongs to Africa.
Sicily Unspoilt Nature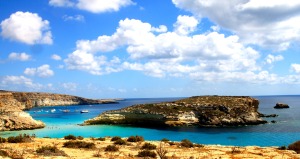 The Pelagie Islands have what most water-sports lovers would consider Sicily's best beaches. Snorkelling is definitely the most popular activity here. The marine life is phenomenal and the turquoise water absolutely stunning.
In these waters it is still possible to find some of the endangered species of the Mediterranean. Some of the best Sicily beaches are Pozzolana di Ponente in Linosa and Isola dei Conigli, Rabbit Beach, in Lampedusa, which are also among the few sites that still host the endangered loggerhead sea turtle.
Scuba diving is also a recommended activity for anyone who wants to explore the rich marine life of the Pelagie Islands.
Paradise beaches among volcanoes and limestone
Among the best beaches in Sicily, Gaia Pozzolana in Linosa ranks very high. Its beautiful black sand is the result of the past activities of three volcanoes, Monte Vulcano, Monte Rosso, and Monte Nero. While the island of Linosa has volcanic origins, Lampedusa and Lampione are formed by limestone.
If you are a seafood fanatic, here you can't go wrong. The economy is mostly based on fishing and for that very reason anything you order will be absolutely fresh and delicious.
You can also take a boat tour and hop from island to island while enjoying some wildlife watching. The Pelagie Islands are an unknown corner of paradise that will for sure allow you to have a fun yet relaxing holiday on some of Sicily's best beaches.