With the summer season of flower shows fast approaching, this is the season to start thinking about green spaces and all things floral. Barbecues, outdoor kitchens, pools and Jacuzzis all add to the outdoor experience but some Wish Sicily exclusive villas go beyond the expected with gardens and outside spaces that really offer that 'wow' factor.
Exclusive flower-filled gardens in north Sicily
Tropical flowers, exotic palms and ancient loquat trees are just some of the attractions of the extraordinary botanical parkland surrounding Villa Cecilia Trabia. Cared for by its plant-loving owners, the gardens comprise a series of interconnecting 'rooms', set amidst a vast loquat orchard. Climbing roses creep around trellises and up fences and stone benches rest in the shade of leafy palms and carob trees. Amid all this splendour is an astonishing three-tiered pool complex and a huge open-sided gazebo – a furnished outdoor room that overlooks lotus flowers and water lilies as they drift across a carp-filled pond.
With space for up to 22 guests in a main villa and three additional properties, Villa Cecilia Trabia is an excellent option for a large gathering or family celebration.
WATCH OUR LATEST VIDEO OF LUXURY VILLA CECILIA TRABIA >>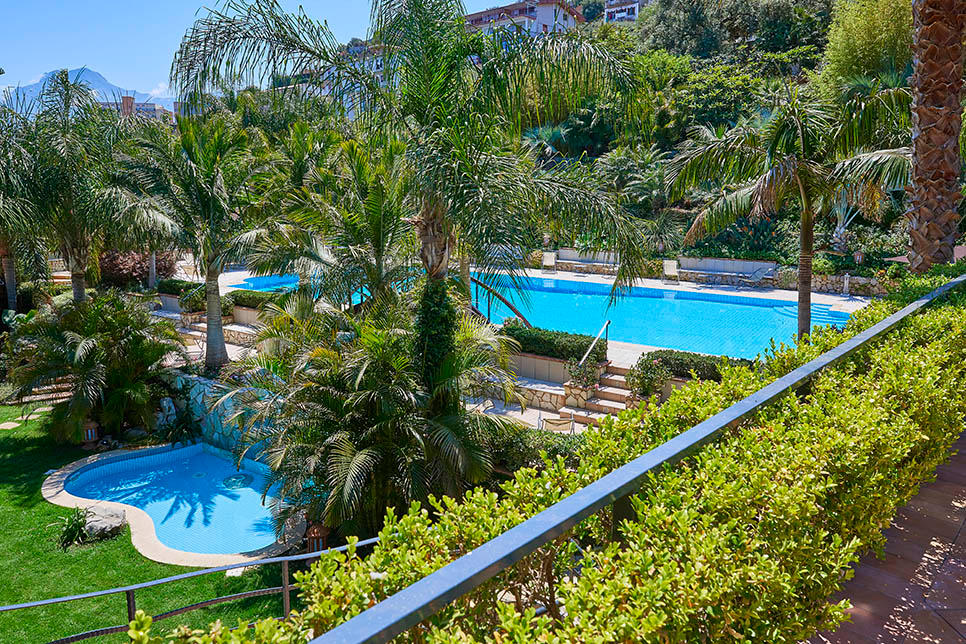 Quirky collections and artworks near Cefalù
Surrounded by lush green countryside, the mature gardens at Villa Arte Mare Blue lead to a walled pool area with spectacular rural views to the sea while closer to the villa, terraces include a dining area and a gorgeous outdoor kitchen with a barbecue and wood burning pizza oven.
Despite its outwardly traditional appearance, the garden at Villa Arte Mare Blue is full of surprises.  A Spiderman figure clambers up the wall by the main entrance to the villa and the wall overlooking the dining terrace is adorned with a collection of imitation giant vinyl records. Beyond the terraces and dotted around the leafy gardens, quirky features include Ronald McDonald figures on a garden bench and animal sculpture while inside, rooms are filled with a wonderfully collection of eclectic art.
Sea-facing terraces and Mediterranean gardens at Fontane Bianche
You are unlikely to tire of the view from Lo Scoglio, a sea-facing Mediterranean villa with garden and terrace just south of Syracuse on the southeast coast of Sicily. There is no classic garden, but there are disproportionately large amounts of beautiful outside space. The villa's vast lounge area leads out to several wide sweeping terraces, providing a 270° view of the coastline, while upstairs, the roof terrace has more dramatic views. When you need to cool off, wander down through gardens filled with succulents, palm trees and dazzling displays of bougainvillea to the water's edge for a refreshing dip in the clearest of seas.